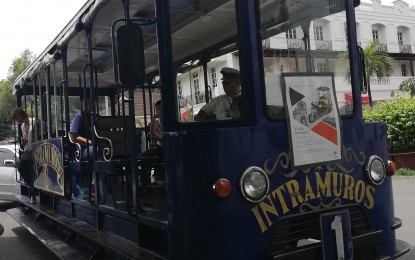 MANILA -- The Manila Hotel, in partnership with the Intramuros Administration, has pilot-tested the Visita Intramuros, a tour of the famous walled city, coinciding with the 121st Philippine Independence Day on Wednesday to reintroduce the place and prominent sites around it as part of Manila's tourist belt.
"The original tourist belt is the Ermita-Malate-Sta. Cruz-Quiapo-Binondo area. If we can revive this tourist belt, we could once again establish the capital as an attraction," Manila Hotel president Joey Lina said.
Reintroducing Intramuros as an entry/starting point could also be a way to revive this once vibrant "tourism belt" of Manila, said the former senator.
Intramuros and Manila Hotel are both witnesses to significant events that shaped Philippine history and what the country is today.
A view of the Baluarte de San Diego from the Presidential Suite at the Manila Hotel
The tour program, with packages starting at PHP2,250, is designed to give the public and the hotel's own guests a glimpse of these historic sites.
The tour starts off at the famed MacArthur Suite inside Manila Hotel, where Gen. Douglas MacArthur once resided when he was assigned as the United States' military advisor to the Commonwealth Government of the Philippines.
Inside the PHP500,000-per-night suite, medals received by the American general are still on display. Originally, MacArthur and his family occupied the entire fifth floor of the Manila Hotel.
A collection of photos of prominent figures at the Manila Hotel museum. A photo depicting people alighting from a plane is the family of General MacArthur
The office of General MacArthur inside his suite at the Manila Hotel
After the exclusive tour at the grand dame of Philippine hotels, landmarks inside the walled city, such as the Fort Santiago, Museo de Intramuros, Baluarte de San Diego, Destileria Limtuaco Museum, Bahay Tsinoy, and Casa Manila are visited.
Charming cobblestone streets, churches, and old infrastructures steeped in history from the Spanish colonial period are few of the things you could spot from a quick stroll inside Intramuros for free.
However, with "in-depth" tours, the advantage is one could take a closer look at the housed artifacts that once made up the old Manila district.
An example of this is the Bahay Tsinoy or the Chinese-Filipino House near the Manila Cathedral, which documents the history, lives, and contribution of the ethnic Chinese in the Philippines. (PNA)
A wax figure of a Chinese food peddler carrying a portable stool and separate containers for soup, noodles, and condiments inside the Bahay Tsinoy museum.