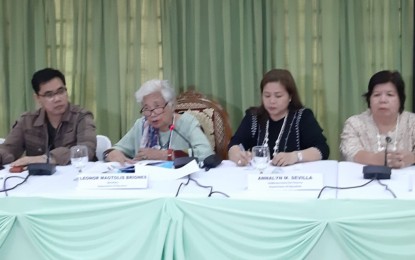 CEBU CITY – Education Secretary Leonor Briones on Thursday said the much-awaited salary increase for the teachers has been discussed "as a matter of national policy in the Cabinet," while the policymakers are studying its impact on the entire bureaucracy.
Briones, in a press briefing at the Department of Education-Ecotech Center here, said the Duterte administration is determined to raise the salary of close to 830,000 public school teachers across the country.
The move to improve of teacher's emoluments must not "endanger the fiscal position of the government and depends on the public opinion and the public's willingness to contribute in the form of additional taxes."
The Education chief said the issue was tackled by the Cabinet in its meeting on Monday.
"There is an effort to increase the salary of the teachers," Briones said.
"Right now, there are efforts to find the source of financing. We are talking about nearly two million workers and there are contract of service workers and job orders who are working without single cent of additional increase," she added.
Earlier, Briones clarified reports about her position on the salary increase, saying she was misunderstood on her "discussion of the considerations that need to be taken into account in arriving at the decision.
According to Briones, the move to increase teachers' salary has an impact on the entire bureaucracy in the country.
"If you raise the salary of the teachers, you have to increase the salaries across structure of the Philippine government," Briones said, mentioning other workers who are in the government like accountants, guidance counselors, nurses, and engineers whose salaries should also be looked into.
In her earlier statement, the chief of DepEd said the "we need to carefully assess the fiscal impact of the salary increase. A PHP5,000 across the board increase will require an additional PHP75 billion annually."
"Raising such amount will have to consider corresponding policies in taxes, borrowing, or budget reallocation," she stressed.
Briones claimed that there have been serious efforts to uplift teachers' conditions that the public should also be made aware of.
On the other hand, the education secretary also feared that increasing the salary of public school teachers might have an impact on private schools.
She noted that there were 1,300 private learning institutions that have already closed shop as the management could no longer catch up with the existing benefits package of public school teachers. (PNA)