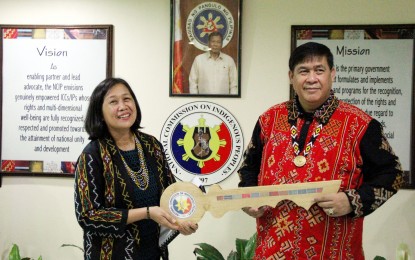 MANILA-- Retired Col. Allen Capuyan on Friday officially assumed the National Commission on Indigenous Peoples (NCIP) chairmanship.
Outgoing NCIP chair Leonor Oralde-Quintayo, who headed the 6th and 7th commission, personally handed over a symbolic key to Capuyan during a ceremony at the NCIP office in Quezon City.
In an interview, Capuyan vowed to strengthen the NCIP from the national to the local level.
"We have now a national task force so we will mainstream the concerns of the NCIP," Capuyan said when asked about his priorities as the new NCIP chairman.
"The IPs' right to ancestral domain, the right to self-governance, their justice system and human rights as well as their cultural integrity, we will mainstream that," he added.
Capuyan, a Manobo, will serve as the NCIP chair concurrent with his post as the executive director of the National Task Force to End Local Communist Armed Conflict (NTF ELCAC).
Holding these positions, the official believes he could further help bring the indigenous peoples' issues to agencies concerned.
"Dahil ang problema ng seguridad ay naka-focus kadalasan sa lugar ng IP, ma-mi-mainstream ngayon ang concern ng mga tribo (Because the problem in security is mostly happening in the lands of the IPs, we could easily mainstream their concerns)," he said.
"Right at the very core of the national task force, we give attention to the IPs and their human rights. Sinasabi ng iba na ang kanilang karapatang pantao ay sinisira ng gobyerno, that is not true (They accuse the government of disregarding the rights of the IP, that is not true)," he added.
The NTF-ELCAC was formed by virtue of Executive Order 70 on December 4, 2018 "to synchronize the utilization of the government's instrumentalities of power with the capabilities of private sector stakeholders to finally end the 50-year long deceit, lies, and atrocities committed by the communist terrorists against the people".
Among these atrocities are the 17 listed act by the CPP-NPA against IPs, said Capuyan. "In the CPP-NPA's 17 major atrocities, all the communist insurgents' violations against our IPs are cited there."
Capuyan also vowed to continue the initiatives started by the 6th and 7th NCIP commission led by Quintayo.
Asked what areas that need further attention in the NCIP, Quintayo said there is still a lot to be done on the issue of delineating the IPs' ancestral domain. "
To date, more than 86 ancestral domain titles have already been approved by the 6th and 7th commission where I headed. All-in-all, we already delineated 245 CADTs (Certificate of Ancestral Domain Title), 5.7 million hectares, but we still have more than seven million hectares left," she said.
"That's a big issue to peace and order, the security of tenure of the IPs," she added.
There are around 110 IP groups in the Philippines or about 14 million individuals. (PNA)