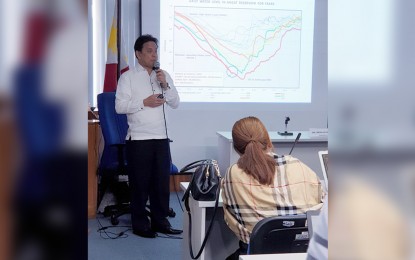 MANILA -- Despite the announcement of the Philippine Atmospheric, Geophysical and Astronomical Services Administration (PAGASA) that the rainy season is officially here, the National Water Resources Board (NWRB) on Monday warned that Angat Dam's water may reach critical level by the end of this week.
NWRB Director Sevillo David Jr., in a press briefing on Monday, said Angat Dam's water level continues to decline, down to 162.39 meters as of Monday, despite the rains in Metro Manila these past days.
"Although PAGASA announced that the rainy season has officially begun, insignificant rainfall showered in the Angat reservoir area for the past weeks," said David.
Meantime, PAGASA said that it is "highly unlikely" that heavy rainfall will occur this week, he added.
The minimum operating water level (MOWL) of Angat Dam is at 180 meters, which means today's level of the dam is 17.61 meters below the MOWL.
Considering the current rate of decline in water elevation of Angat Dam, David said this is considered "critical" for domestic water supply which will affect residents in Metro Manila, Bulacan, Rizal, and parts of Cavite.
"Possible reduction of the approved 46 cubic meters per second (CMS) allocation to MWSS (Metropolitan Waterworks and Sewerage System) is foreseen once the water level dipped below 160 meters. This will affect the regular delivery of water service provided to Metro Manila concessionaires -- Maynilad and Manila Water. Pressure reduction, water rotation and interruption are expected," he noted.
David, however, assured that the government and the water concessionaires are doing everything to lessen the adverse impacts brought by the situation.
He said several measures are now being undertaken to manage the remaining water including the operationalization of the Angat Dam low level outlet (LLO), the bottom channel capable of releasing water below 160 meters.
At present, David said the quality of water at LLO is "manageable" based on their latest test. The last time Angat Dam water level reached below critical level was in May 2010, he said.
"We have been constantly appealing to the public to conserve water and we are now repeating the plea especially when the expected rain is not yet pouring where it is needed. Saving what is coming out of the tap and harvesting rain when it comes are substantial contribution to lessen the water demand from the dam," the NWRB chief said.
It is expected that Angat Dam's water level will increase by the second or third week of July with the onset of the rainy season. "Stable water supply will return to its normal state (by then), but the public is still encouraged to continue conserving water to help in the Angat reservoir's water level recovery," he said. (PNA)