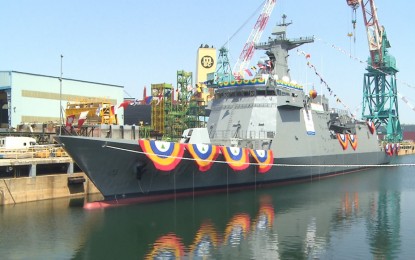 MANILA -- South Korean-shipbuilder Hyundai Heavy Industries (HHI) vowed to deliver the country's first-ever two missile frigates, a year ahead of schedule, said Philippine Navy (PN) flag-officer-in-command Vice Admiral Robert Empedrad on Monday.
He made this statement during the 121st founding anniversary of the PN which was held at Naval Base Heracleo Alano, Sangley Point in Cavite province.
"Next year will be the much anticipated completion of our four-dimensional missile frigates, BRP Jose Rizal (FF-150) and BRP Antonio Luna (FF-151). HHI in the Republic of Korea, the number one shipbuilder in the world, deliver the two frigates in April and September of next year," Empedrad said.
BRP Jose Rizal was supposed to be delivered by September of 2020 and BRP Antonio Luna, which has its keel-laying last May 23, was to be handed over to the PN by 2021.
The Department of National Defense signed a PHP18-billion contract for the two ships, including weapons systems. BRP Jose Rizal has its launching ceremonies on the same date in Ulsan, South Korea.
With Empedrad's pronouncements, the two frigates are expected to enter PN service by 2020 or a year ahead of schedule.
Also, these ships fully equipped with surface-to-air and surface-to-surface missiles, torpedoes, launchers and weapon systems and sensors for four-dimensional warfare.
The ships measure 351 feet long and 46 feet wide and have a maximum speed of 25 knots and can travel up to 4,500 nautical miles at a cruising speed of 15 knots and can sustain operational presence for 30 days. It is also capable to withstand rough sea conditions up to Sea State 7 or waves of six to nine meters high.
"Looking further ahead, our President (Rodrigo Duterte) recently approved the acquisition of eight fast-attack craft or interdiction craft (armed with) missile(s) with an approved budget for contract of PHP10 billion, four of these interdiction crafts will be equipped with non-line-of-sight missiles that can hit targets 25 kilometers away with pinpoint accuracy, (this) capability will easily destroy the enemy in a Marawi type war," the PN chief added.
Aside from the fast-attack craft, the Chief Executive also gave approval for the acquisition of two new corvettes, the smallest-rated warships in any Navy, which has a budget of PHP28 billion.
But despite their small size, Empedrad said these corvettes will be more powerful that the two soon-to-be delivered frigates because it will be fitted with more sophisticated and modern weapon systems.
"Fellow Filipinos after the war we are one of the most powerful navies in Asia, six decades later, we are probably one the weakest if not the weakest. But with the arrival of two brand new frigates, two brand new corvettes, eight fast-attack interdiction craft, three upgraded Del Pilar (offshore patrol vessels) and JCPVs (Jacinto-class patrol vessels) and possibly two submarines and shore-based missile systems, I am confident that your Navy is now strong and credible and may very perform its mandated mission to secure the sovereignty of our nation and protect all the 7,600 islands," the PN chief added. (PNA)