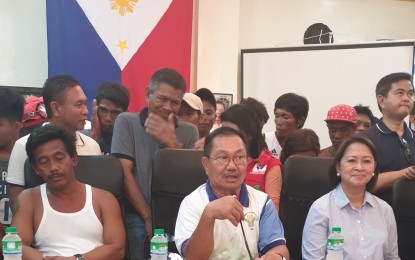 SAN JOSE, Occidental Mindoro -- Agriculture Secretary Emmanuel F. Piñol, together with the 22 rescued fishermen who called themselves the "Recto Bank 22", on Wednesday denounced the act of the crew of the Chinese vessel for abandoning them after ramming their boat, the F/B Gem-Ver 1.
"We denounce the act of the Chinese vessel in abandoning the fishermen in distress," Piñol said in a press conference held at the Sangguniang Bayan conference room here.
"Regardless of whether it was accidental or intentional, there is no justification (for) the act of the Chinese vessel to abandon the Filipino fishermen who were already in distress," he said.
Under international maritime laws, "such act is illegal," Piñol said. "Under human laws, that is immoral."
The agriculture chief had a closed-door meeting with the 22 fishermen and the owner of F/B Gem-Ver 1 involved in the Recto Bank incident.
Piñol said the fishermen are asking President Rodrigo R. Duterte "to make representation with the Chinese government so that the skipper (captain) and the crew members of the Chinese vessel, which figured in the incident, will be held accountable criminally because of the act of abandoning them."
The 22 fishermen also asked the President that Recto Bank, which is their traditional fishing ground, should be an exclusive fishing ground for Filipino fishermen, and that the government should help secure the area.
Piñol said the fishermen are also appealing to those who are "riding" on the issue, making it a political one, "to stop."
"Gumugulo lang ang buhay nila (The fishermen's lives are being messed up)," he said.
Insigne, in an interview, appealed to the President for justice for what they had suffered.
"Humihingi ako ng tulong sa Presidente na sana managot ang kapitan at mga crew ng Chinese vessel na bumangga sa min. Yun lang po ang hinihiling namin (I am asking the President for help and we want the captain and crew of the Chinese vessel who hit us to be held liable for what they did to us. That is what we are requesting)," he said. (PNA)