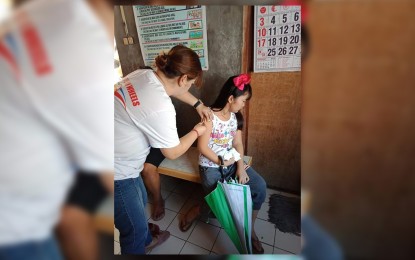 DAGUPAN CITY -- The City Health Office (CHO) here has immunized some 4,325 children and adults with Japanese encephalitis vaccine from April 29 to May 31 this year.
City health officer Dr. Ophelia Rivera, in a phone interview Wednesday, said the shots were given for free to children between nine months to 15 years of age, and even adults.
Rivera said they went around the 31 barangays of the city for the scheduled immunization, and the CHO also vaccinated walk-ins in their office.
"This vaccine is not new. It was not just available in public health facilities before because it is costly. But now, it can be availed for free so parents should take this opportunity to protect their children against the Japanese encephalitis," she said.
Rivera noted Japanese encephalitis is a viral disease that can be acquired from the bite of carrier-mosquitoes but it can also be obtained from pigs and flying birds.
"We cannot just kill the pigs and the birds so the best way to prevent the disease is through vaccination and cleanliness. Cleanliness is also necessary to prevent breeding grounds of mosquitoes," she added.
Rivera pointed out that Japanese encephalitis is deadly, while 30 to 40 percent of those who survived develop complications such as deafness, paralysis, and other neurological disorders.
Dagupan City has not yet recorded any case of the disease. Other parts of Pangasinan, however, recorded 74 cases since 2016.
"The parents accepted well the vaccine," she said.
Meanwhile, the CHO conducted misting operations in the city in preparation for the rainy season when dengue cases are prevalent.
"We also ordered the barangay nurses and health workers to check the surroundings of their community and encourage the residents to conduct clean-up drives," she said. (PNA)