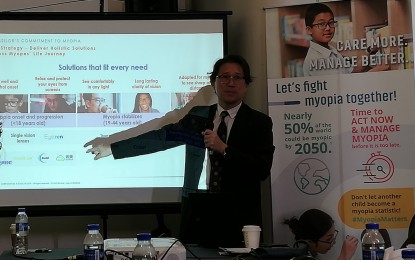 MANILA -- Look closely and you see everything. Look from a distance and you see nothing. This is the ordeal people with myopia or nearsightedness have to face everyday.
However, there is a way to delay the development of this disorder, especially among children -- through getting outdoors and setting aside for a while one's computer or smartphone.
"There is no sure way to stop the occurrence of myopia but it can be delayed, and in Singapore, the government has taken this seriously that they changed the school curriculum for the children. They don't do physical education indoors anymore, they send the students outside so they can get more exposure to sunlight," Dr. John Ang, vice president for Education and Professional Services of Essilor Asia Pacific, Middle East, Russia and Africa, said at the 22nd Asia Pacific Optometry Congress in Manila Wednesday.
Ang explained Singapore is one of the countries with the highest prevalence of myopia, adding that the number of seven-year-old children with myopia or myopes has an increase rate of 28 percent while twelve-year-old myopes increase in number at 65-percent rate.
Causes and prevalence
Myopia or nearsightedness is one of the most common eye disorders in the world which is characterized by blurry vision when looking at distant objects.
"There are myths regarding the causes of myopia like, you're most likely to get it if you look at green things and if you eat food with lots of fats and sugar. Let me tell you, looking at things that are color green are good for the eyes and it's good to reduce fat and sugar intake but myopia doesn't have anything to do with nutrition," Ang stressed.
Genetics and ethnicity are two factors which eye experts relate with myopia.
"If both parents have myopia, their children have a big chance of inheriting it. Studies also show that East Asians are more prone to having myopia compared to Westerners but there's no proof yet if this about 'pure ethnicity' factor," Ang said.
Citing that myopia is often first detected during childhood and diagnosed during early school years, Ang explained most children may not even realize or complain of myopia symptoms.
"Kids around six years old may get it, especially now that gadgets have replaced the baby sitters. It may progress rapidly throughout their school years when they're six to 16 years old, and until they are 18 to 24 years old," he added.
Ang said parents can suspect their children of having myopia if "they have blurry vision when looking at distant objects, sit closer to the television or the front of the classroom, squint or partially close their eyelids to see clearly and experience headaches caused by eyestrain".
He added studies on common eye problems are increasing at an alarming rate with almost two billion myopes reported in 2019 worldwide.
In 2030, myopes are expected to increase to almost three billion worldwide and to five billion myopes in 2050 as urbanization and indoor lifestyles continue to prevail.
"Even in the Philippines, myopia prevalence has been steadily increasing each decade, with nearly 40 percent of the overall population currently, being myopic," Ang said.
Stressing that neglect of myopia in children could affect their learning, he cited one out of three children worldwide has poor academic performance because he/she cannot see the board clearly.
"About 80 percent of what children learn is through their eyes, so, if children's vision suffers, chances are their school work are suffering too. It can affect their growth, their future," he said.
"Myopia may also affect long-term eye health, high myopia, - 5.00 D or more may increase the risk of long-term eye diseases, like 2.46 times risk of glaucoma, 5.5 times risk of cataract, 21.5 times risk of retinal detachment and 40.6 times risk of myopic macular degeneration," he added.
Treatment and eye health tips
Myopia can be detected, corrected and managed. Its early detection can reduce the risk of its development in the later years of life.
According to Essilor's 2017 Parents' Awareness of Myopia Control Survey, around 95 percent of parents do not know about myopia management solutions.
"Eyeglasses are the simplest and safest way to correct and manage myopia. Essilor has developed myopilux which is a myopia management spectacles. It is a non-invasive, simple, and safe solution to help slow down myopia progression, and also there are eye care tips you can observe to keep childhood myopia at bay," Ang said.
He added other eye health practices include eye exam every six months, taking a break when doing work with computers or using digital devices, encouraging children spend at least two and a half hours outdoors daily, and using light and maintaining proper distance when reading or working.
"Changing lifestyles is very important like in Sydney where students have two hours outside play per day, they are three percent myopic. I'm not sure, but maybe we Asians push our children more to be indoors and study, unlike the Australians, they are more the sporty type," Ang said.
Emelita Roleda, general manager of Essilor Philippines, said their group believes in the importance of improving one's vision in order to have an improved life.
"With this conference, we aim to educate the optometrists in the Philippines about myopia's prevalence and to raise public awareness. The optometrists can impart the knowledge they will get here to the children's parents, so myopia cases can be reduced," Roleda said.
She added they are coordinating with the Department of Health and other government agencies in line with the celebration of myopia awareness month in August.
"We went to Cebu, Davao and Pasig to educate parents and children alike about myopia, its symptoms and treatment. We provided also free eye exams to ensure early detection of myopia especially among the less privileged," she said.
Essilor is an ophthalmic optics company that designs, manufactures and markets a wide range of lenses to improve and protect eyesight. It supports researches by the International Myopia Institute which covers essential topics in advancing clinical knowledge and practice related to stemming the expanding impact of myopia. (PNA)