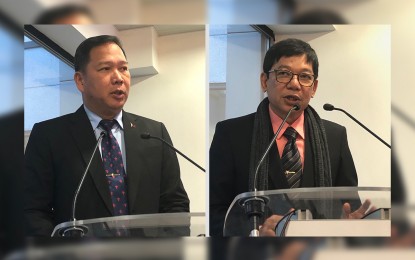 MANILA – Despite several negotiations with the communist group, peace remains elusive because the Communist Party of the Philippines (CPP) used the talks as a means to overthrow the government.
"We are not getting what we want which is peace because they do not really want peace, they want power," National Intelligence Coordinating Agency Director General Alex Paul Monteagudo said in an interview at the Philippine Daily Inquirer office on June 18.
Monteagudo, in Inquirer.net's YouTube account, narrated how President Rodrigo Duterte showed he was willing to risk and gamble by appointing left-leaning personalities to Cabinet positions in 2016 as part of confidence-building measures.
"Parang pinakita niya sa partido (CPP) na (He showed to the CPP that), 'Look, we can work together. We don't have to fight each other; we don't have to kill each other.' That's why he appointed them as proof that he is willing to work with the communists just to end the killings, armed conflicts," he said.
No good faith
He added that despite a ceasefire declaration when the President appointed these people in his Cabinet, the CPP's armed wing, New People's Army (NPA) continued with their attacks on government troops, killings of civilians, extortion through revolutionary tax collection, and burning of construction and farm equipment.
"Where is the good faith there? Pinakita mo na lahat, ni-release mo 22 high ranking officers of the CPP, cadres. Anong pinalit nila doon? (What did they give in return to the President's goodwill like the release of 22 high ranking CPP leaders and cadres). Kung ikaw, binigay mo na lahat at walang binigay na kapalit (If you gave everything and nothing is given back), there's an end to what you can give," he added.
Addressing IP concerns
Meanwhile, Monteagudo said the indigenous people (IP), which comprise around 70 percent of NPA membership, are most vulnerable to NPA recruitment because of their residential remoteness.
"The NPAs find them ideal for recruitment, for the mass base, because there is no government presence. IPs provide the guerilla base and the guerilla hiding place," he said, adding that the corridors for movement are in IP communities.
He revealed that there are now fewer lowlanders gullible to communist propaganda since most of them have found jobs and livelihood.
The students, though, remain to be most gullible due to their idealistic nature and their less awareness, if not total ignorance, of the history of the Philippines and the CPP.
"Kapag pinunto mo na mayaman ang Pilipinas, naghihirap ang Pilipino, ipaglaban natin siya dahil mahirap siya (If they are told that the Philippines is rich but Filipinos are poor, and their rights as poor will be fought for), then that's good enough for them," he added.
He said the students eventually become NPA cadres and the best educators for the IPs, who remain as warm bodies in the guerilla warfare.
"Kawawang-kawawa sila (They are pitiful) that's why, you know, if we can just bring them here and you can talk to them, your heart will break when they tell their stories," said Monteagudo referring to the IPs or lumads whose stories narrate killings of their parents and relatives, rape, pedophilic acts, exploitation, and how young IPs were taught to kill by the NPA.
Addressing the sorry state of exploited IPs, he said, is among the objectives of the National Task Force to End Local Communist Armed Conflict (NTF ELCAC), whose creation is part of Executive Order 70 signed by President Duterte in December 2018.
EO 70 has formed NTF ELCAC to work out a mechanism to help end the decades-old communist insurgency, and institutionalize a "whole-of-nation approach" in attaining an "inclusive and sustainable peace." The Whole-of-Nation Approach mandates all concerned agencies of government to work in a holistic and integrated manner to deliver much-needed services to underdeveloped, conflict-affected communities.
Media support sought
Major General Antonio Parlade, Jr., Armed Forces of the Philippines Deputy Chief of Staff for Civil-Military Operations, said NTF ELCAC is reaching out to stakeholders, especially the 4th Estate to gain support in ending the communist armed conflict.
NTF ELCAC sought Philippine Daily Inquirer's support in spreading out the truth about CPPs duplicitous nature to end to the decades-old insurgency.
"Recruitment starts in schools, specifically from the ranks of College Editors Guild of the Philippines, whose members are later enticed to become cadres of the CPP by joining the underground movement, Kabataang Makabayan," Parade said in explaining how the CPP infiltrates the media for its propaganda agenda.
He said according to the Japan International Cooperation Agency, it is spending almost PhP100 billion a year for projects against insurgency.
"If this insurgency is terminated, much of these funds can now go to education, health, and other programs," he said.
DepEd, he added, can have better paid teachers, more schools, if it helps stop recruitment of children by not allowing exploitation of the Alliance of Concerned Teachers by the CPP-NPA, which is listed as a terrorist organization by the United States, European Union, the United Kingdom, Australia, Canada, New Zealand, and the Philippines.
"These, and many more lies should be known by the people. Media has a very big role in ending this insurgency. All we ask is balanced news, and for the truth to come out in their publication. It is not all about profit," Parade added.
He said people will not support the "fake peace talks" which the National Democratic Front of the Philippines (NDFP) is pushing for, if media organizations make known the hidden agenda of the NDFP's Comprehensive Agreement on Social and Economic Reforms, which is considered the most difficult stage in the peace negotiations like demobilization of the AFP in case a peace agreement is signed, cancellation of Indigenous People's Rights Act (IPRA), among others," he said. (PNA)