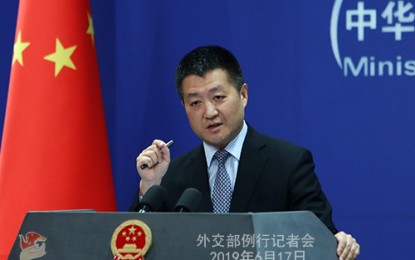 MANILA-- The Chinese Foreign Ministry on Thursday proposed to jointly investigate with Philippine authorities the recent incident involving a Chinese and Filipino vessel that resulted in the latter's sinking on June 9 off the waters of Recto Bank.
"To find a proper solution, we suggest a joint investigation at an early date so the two sides can exchange respective initial findings and properly handle the matter through friendly consultations based on mutually-recognized investigation results," Chinese Foreign Ministry spokesperson Lu Kang said in a press conference.
Lu said China "attaches great importance to friendly relations" with the Philippines and safety of persons at sea, regardless of nationality.
"Once again, I would like to offer sympathy to the Filipino fishermen who were in distress after the accidental collision of a Chinese and a Filipino fishing vessel in Liyue Tan, Nansha," he said, referring to Recto Bank, also claimed by Beijing, in its Chinese name.
"We will continue to investigate the incident thoroughly and communicate with the Philippine side via bilateral channels," he added.
The incident involved the Filipino fishing boat Gem-Ver1 and a Chinese vessel at an area within the Philippines' exclusive economic zone.
It resulted in the sinking of the Gem-Ver1, leaving 22 Filipino crew floundering in the water for several hours until they were rescued by a Vietnamese fishing boat. (PNA)