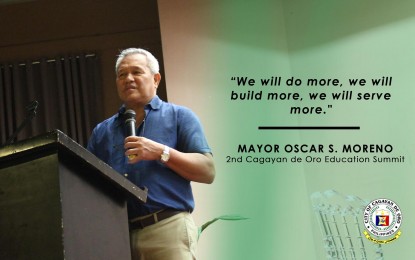 CAGAYAN DE ORO CITY – The Court of Appeals' 12th division has dismissed 24 administrative cases against incumbent mayor Oscar Moreno, a city official said on Friday.
City information officer Maricel Rivera confirmed that the CA has junked the cases in relation to the rental of heavy equipment when Moreno was still the governor of Misamis Oriental.
In a press conference, Moreno said the verdict of clearing him of the accusations was "beyond words."
"Nothing is sweeter than being vindicated," Moreno said, noting that the cases were "designed" to discredit his credibility while insinuating that this was the handiwork of his political opponents.
The 33-page decision was signed by Associate Justices Victoria Isabel Paredes, Marlene Gonzales-Sison, and Maria Elisa Sempio Diy on May 15, 2019, but city hall released the information on Friday.
Also cleared by the appellate court were former provincial bids and awards committee members Elsie Lopoy, Rolando Pacuribot, Elmer Wabe, Leemar Tinagan, Divina Bade, and Patrick Gabutina.
All of them were charged before the Office of the Ombudsman with serious dishonesty, grave misconduct and conduct prejudicial to the best interest of public service.
The Ombudsman alleged that the rental of the heavy equipment for the road development project did not follow the bidding process, although the respondents reasoned that they resorted to other forms of procurement.
"The existence of conspiracy cannot be presumed, it must be proven through clear and convincing evidence," the CA decision read, adding that the acts of the respondents did not, in any way, tarnish the image and integrity of their respective offices.
The CA has also approved the respondents' petition for certiorari or an order by which a higher court reviews the decision of a lower court.
"The Petition for Certiorari and prohibition are hereby granted and the assailed decision issued by the office of the Ombudsman on various dates finding petitioners guilty of serious dishonesty, grave misconduct, and conduct prejudicial to the best interest of service are reversed and set aside. Accordingly, the Administrative complaints against them are dismissed," the CA ruled. (PNA)