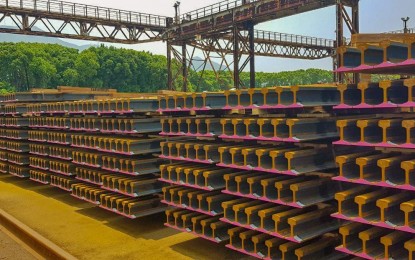 MANILA -- The Department of Transportation (DOTr) on Friday said the new rails from Japan are expected to arrive in the Philippines within the third quarter of this year amid the ongoing rehabilitation of the Metro Rail Transit 3 (MRT-3).
"Over 50 percent of the rails are ready for shipment from Japan, and are expected to arrive in the Philippines in the third quarter of this year (July - August 2019) — several months earlier than its scheduled date of delivery," the DOTr said in a statement.
Upon arrival at the Port of Manila, the Nippon Steel-made rails will be delivered and prepared for installation at the tracks' laydown yard near the Parañaque Integrated Transport Exchange.
The DOTr said it expects the MRT-3 trains to be running smoothly with the repair of its wheel lathe machine last March and the upcoming replacement of all its mainline tracks.
"With the repair of MRT-3's wheel lathe machine last March and the upcoming replacement of all of MRT-3's mainline tracks, MRT-3's will be running smoother and with less vibration. Vibration is one of the enemies of any mechanical and electrical equipment, and is one of the causes of MRT-3's breakdowns in the past," the DOTr's statement read.
The DOTr's Factory Acceptance Test team headed by MRT Director for Operations Michael Capati, accompanied by Asian Development Bank rail expert Peter Raeside and TES Philippines chairman Kiyoshi Morita, visited Japanese steel firm Nippon Steel in Fukuoka, Japan last Thursday to inspect the new rails that will be installed on the MRT tracks.
The consortium of Sumitomo, Mitsubishi Heavy Industries and TES Philippines (Sumitomo-MHI-TESP) said earlier parts of the light rail vehicles for the railway system will arrive in July while tracks and signaling components are set to be delivered in August.
Sumitomo-MHI-TESP will undertake the overhaul of all 72 light rail vehicles of the MRT-3, replace all mainline tracks, rehabilitate power and overhead catenary systems, upgrade the signaling system, communications and CCTV systems, and repair all of MRT-3's escalators and elevators, among other system repairs and improvements.
The MRT rehabilitation project is seen to increase the number of operating trains from 15 to 20 at peak hours, double the train operating speed from 30 to 60 kilometers per hour, reduce by half the headway or waiting time from 7-10 minutes to just 3.5 minutes and increase train capacity from an average of 300,000 passengers per day to 650,000 passengers daily.
The project is expected to last for 43 months with rehabilitation works slated for completion within the first 26 months.
The Sumitomo-MHI-TESP took over the maintenance and rehabilitation of the MRT-3 last May from the MRT Maintenance Transition Team of the DOTr. (PNA)