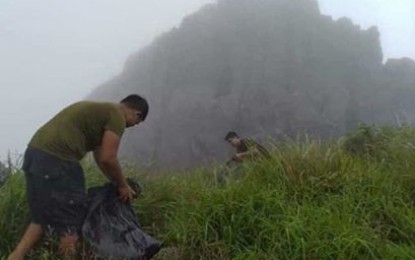 ILOILO CITY -- Citing mountaineering as an emerging hobby among Filipinos, an organization of climbers here advocates for responsible eco-tourism.
The Higher Grounds Mountaineers in Iloilo, a non-government organization established in 2007, emphasized Friday that mountaineers should be responsible enough to bring back the trash they brought with them to the mountains.
The group has conducted the 6th mountain clean-up drive at Mt. Napulak in Igbaras town, Iloilo last weekend.
Mt. Napulak is one of the favorite mountain destinations in Panay, said Jay Plantinos, founder of the group, in a phone interview.
With full support from the Igbaras local government and combined efforts of the 25 Higher Grounds Mountaineers members and volunteer guides from Bagay village, the clean-up drive headed by Bert Esposado, was able to collect five bags of garbage.
"Before the rainy season start, we see to it that our mountains are free from trash," he said.
Esposado said that only a few mountaineers climb during the rainy season, which is also the mating time of organisms and animals in the mountains.
Food wrappers comprised most of the trash left behind by tourists and mountaineers.
"Sadly, the 'Facebook mountaineers' who only climb mountains and just take pictures lack training. They should also know the ethical standards, including cleaning the mountain before they leave," he said.
Aside from leaving the mountains without traces of trash, Platinos said that tourists should also avoid leaving unnecessary marks on trees and rocks.
Platinos said enjoying tourist spots should also come hand in hand with respecting nature.
"We can take pride of our mountains if it is free from trash and vandalism, especially that tourists also love to experience our high places here," he said. (PNA)