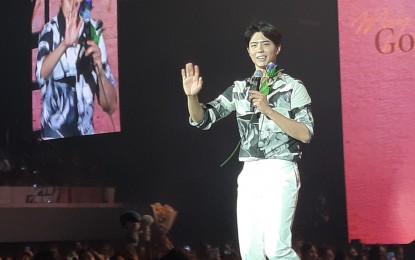 MANILA -- Deafening yells and vociferous cheers from Filipino fans filled the SM Mall of Asia Arena when South Korean actor Park Bo Gum rocked the stage during his "Good Day" fan meeting on Saturday night.
Clad in a stylish dark blue suit and wearing his signature smile, the six-foot tall actor-model literally blessed the long wait of fans with his fabulous charm as he opened the event with his rendition of Day 6's song "I Like You".
During the one-on-one question and answer portion, event host Anne Curtis asked Bo Gum on what he wants to achieve before he turns 40. Bo Gum, who is also dubbed as the "Nation's Boyfriend" in South Korea, said he wants to get married, have a baby, study abroad and act in a foreign film -- an answer which drew loud cheers from fans.
What was expected as a simple meet-and-greet event turned out to be a night to remember as the South Korean celebrity set the bar of 'fan service'.
Three lucky fans got an opportunity of a lifetime when they were selected to act scenes with Park from his latest drama "Encounter".
Some of the hits that he performed include "Bounce", "Through The Night" and "Celebrity", English song "I Will Be Here" and local hit "Nasa Iyo na ang Lahat". Meanwhile, fans joined his rendition of soundtracks from his hit drama "Love in the Moonlight" such as "Swallowing My Heart" of B1A4's Sandeul and his own single "My Person".
Fans swooned as the South Korean heartthrob quickly transformed from a balladeer into the king of the dance floor, as he jived to the tune of hot K-Pop hits such as TWICE's "What is Love" and BTS' "Boy with Luv". Bo Gum admitted that his close friend and BTS member Kim Taehyung, commonly known as "V", taught him the song's choreography.
The star of the night shined even brighter as he gave in to the fans' request to dance to the tune of "Bombastic", which he used to perform while promoting "Love in the Moonlight" in 2016.
Bo Gum majored in Musical Theater at Myongji University in South Korea and graduated in February last year.
The night felt more special as Bo Gum manifested his generosity and thoughtfulness when he personally gave a diffuser that he made on stage to a fan. Meanwhile, other fans who were selected via raffle got gifts from him such as a calendar, stuffed toy, heart-shaped stress balls and posters with his autograph, a light stick for the event which he personally designed as well as shoes, shirts and a sweater that he used to wear. His smile became sweeter upon viewing a video message from Filipino fans who expressed love and support for his future endeavors. He also received a "happy birthday" song from the crowd, barely a week after he turned 26 on June 16.
At the end of the show, all fans were treated to a "hi-touch" session with Bo Gum. They also received free posters and a letter from the actor as a simple souvenir of the event.
"My fans in the Philippines, it was really a good day in Manila so thank you for coming and thank you for your time for me. It was really a Good Day! God bless you all," the actor, who is a devout Christian, said in a video message posted on the Facebook page of local fan club Park Bo Gum Philippines.
Several fans, meanwhile, took to social media their praises for Bo Gum, whom they said gave all heart and energy on his performances.
"Thank you for your kindness, warmth and never-ending love and happiness that you brought in my heart. Today is a memory that I will treasure forever in my heart," Kristina Hernandez, a hotel employee from Marilao, Bulacan, said in a Facebook post.
Meanwhile, electronics engineer Jenelyn Tidalgo said the event exceeded her expectations.
"Yes, super worth it! Umarte, kumanta, sumayaw, nag-piano, gumawa ng diffuser, ang daming sinign na items for gifts, may hi-touch pa. Parang kulang pa binayad natin (He acted, sang, danced, played the piano, made a diffuser, distributed signed gift items. There was even a hi-touch session. It seems we haven't paid enough). Thank you, Bo Gum," she said.
The actor's fan meeting in Manila, the last leg of his Asia tour this year, was earlier scheduled for April 27 but was postponed due to the earthquakes that hit the country. In an earlier statement, his agency Blossom Entertainment said the actor is more concerned with the safety of the fans, thus the postponement.
This is Bo Gum's third visit to the Philippines. He went to Cebu to shoot scenes from the drama series "Wonderful Mama" in 2013 and returned to the province for a short vacation with the cast of "Love in the Moonlight" in 2016.
Bo Gum soared to stardom for his roles such as a carefree yet lion-hearted crown prince in "Love in the Moonlight", a timid baduk (Korean chess) player in "Reply 1988", a psychopath lawyer in "Hello Monster", and a free-spirited man who fell in love with a rich hotelier (played by Song Hye Kyo) in "Encounter". (PNA)