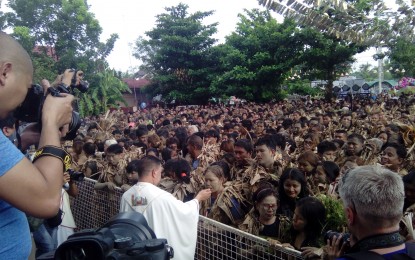 ALIAGA, Nueva Ecija - A Nueva Ecija bishop on Monday urged the people to live by faith amid what he described as seemingly foolish donning of vines or dried banana leaves as townsfolk and tourists celebrate the "Taong Putik Festival" popularly known among the locals as "Pagsa-San Juan", a festivity in honor of St. John the Baptist in Barangay Bibiclat here.
Bishop Sofronio Bancud of the Diocese of Cabanatuan, who celebrated a Holy Mass, maintained that Pagsa-San Juan is beyond being a cultural and tourist attraction.
Bancud said that people practicing the Taong Putik ritual may be ridiculed by some non-devotees.
"Pero kung ikaw ay may pananapalatayang buhay na nakaugat sa pag-ibig ng Diyos, ikaw ay may kakayanang makatugon at pagtitiwala na sa Diyos lamang nagmumula ang ating lakas (But if you have a living faith that is rooted in the love of God, you have the ability to respond and trust that our strength only comes from God)," he said.
Like St. John, he said, the faithful should stand by humility.
He also urged devotees to keep a warm relationship among family members as faith teaches.
"Hangad natin ang kapayapaan, hangad natin na na may katarungan, may pagkakaisa. Pero walang mangyayari dito hanggat hindi sinisimulan sa tahanan (we desire peace, justice and unity. But, nothing will happen until it started at home)," the bishop stressed.
"Let us not wait for a barangay captain, for the mayor, congressman, governor, senators or the president, each on of us, bawat isa sa atin ay hinirang ng Diyos para sa pagpapalaganap ng kapayapaan. Simulan po natin (each of us is appointed by God for the promotion of peace. Let's start)," he said.
Local devotion to St. John the Baptist heightened during the Japanese occupation in 1944, according to accounts of older residents.
When Japanese soldiers were to execute all the men in Bibiclat to avenge the death of their compatriots, villagers went to the church and prayed hard for the lives of their relatives.
After a while, as the Filipinos were led to the firing squad, it rained so hard and some Japanese officers interpreted this as a sign of disapproval from heaven.
Since then, villagers have celebrated the feast of St. John by wearing banana leaves and vines and covering their bodies with mud early morning of June 24, the patron saint's feast day.
By transforming themselves into mud people, participants said they are able to emulate St. John the Baptist, who appears in most Biblical tales dressed like a beggar.
From the village's rice field, groups of muddy people roam the village and ask for alms.
House owners give them money or candles, believing that this gesture would be compensated with blessings.
After this ritual, participants gather at the church yard to hear Mass. They light candles and offer prayers before washing themselves and join their families for the fiesta celebration later in the day. (PNA)