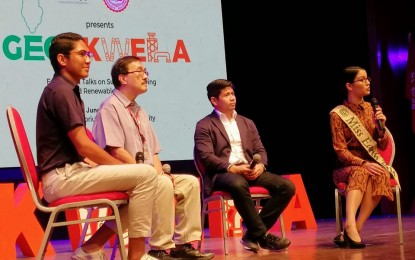 DUMAGUETE CITY – Environmental advocates challenged more than 700 students from the different schools here on Monday to take a pro-active stand on issues related to the environment as their future is largely at stake with the impacts of global warming and climate change.
During the GeoSkwela forum on Sustainable Living and Renewable Energy, Jamie Herrell, Miss Earth 2014, wowed the jam-packed crowd inside the Luce Auditorium at Silliman University here with her personal advocacies on the protection of the environment. She dared the audience to be pro-active rather than be reactive.
She explained about her personal "Think Twice" campaign, which aims to "teach kids how to find alternatives in their everyday lives to sustain the environment."
"When are we going to start taking the initiative? Taking care of the environment is just like taking care of business," she said.
"You don't wait for the problem to happen. You have to think of solutions before it happens," Herrell added.
Another young environmental campaigner, Rhyn Anthony Esolana, a Foreign Affairs student from Silliman University, and co-founder of the student-led Project Balod marine conservation workshop, also shared his own experiences in pushing for advocacies specifically on the marine environment.
Esolana noted that the Philippines "is the center of marine biodiversity in the world," meaning the country has rich flora and fauna.
Do not worry about tomorrow more than having to worry about now, he said.
"Why do we have to save the environment? Because it's about food security, about health care," he added.
Esolana stressed the need to look after the sea, because it benefits the people, such as on tourism and most importantly, food.
By 2050, with the current trend of producing so much plastic, "there will be more plastic in the ocean than fish," Esolana said.
Meanwhile, Dr. Jorge Emmanuel, a renowned environmental campaigner and former consultant to the United Nation's Health Program who has worked in various international groups in 40 different countries, warned of "existential threats", those that face "the very extinction of the human species".
The massive loss of biodiversity, decline in species, and what some are fearing might be a mass extinction, are among the serious concerns that need to be addressed, he said.
Another existential threat is waste, of which a big portion is plastic waste, he added.
Global climate change is also another existential threat that needs serious attention, said Dr. Emmanuel, a "Balik Scientist" of the Department of Science and Technology.
According to him, humans are the source of these existential threats to the human species, and therefore, the younger generation must also play a significant and active role to address and find solutions to these problems.
For his part, Miguel Lorenzo De Vera, head of the Strategic Initiatives, Legal, Regulatory Office (SILRO) of the Energy Development Corporation (EDC) emphasized the benefits of renewable energy, specifically geothermal energy, as the "cleanest, most stable, and the energy of the future."
"Demand to shift to RE (renewable energy) is an all-time high and rightly so because this is one of the concrete steps in the campaign to reduce carbon emissions that continue to warm our planet," he said.
The GeoSkwela forum and exhibit was organized by EDC and Silliman University to promote sustainability and environmental advocacy at the grassroots level of academic communities and student bodies "to ensure that greener and more stable energy future is a brighter prospect today more than ever," said Norreen Bautista, head of EDC's Corporate Social Responsibility Group in Negros Island.
EDC is the country's premier renewable energy company and one of the world's largest geothermal producers, with facilities in Valencia, Negros Oriental than can provide clean, renewable and reliable power 24/7 in Negros Island and other parts of the Visayas region. (PNA)