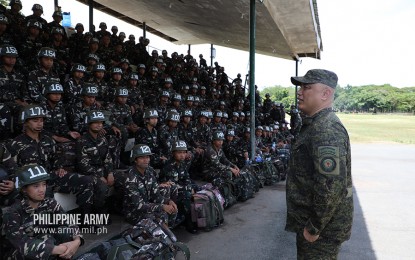 MANILA -- Philippine Army (PA) commander Lt. Gen. Macairog S. Alberto on Tuesday spearheaded the 57th founding anniversary of the Special Forces Regiment (Airborne) at its headquarters in Fort Magasaysay, Nueva Ecija.
The SFR(A) is an elite Army unit with a competency in unconventional warfare operations, Army spokesperson Lt. Col. Ramon Zagala said.
Members of the unit are also highly trained in counter-insurgency and counter-terrorism.
Among the strengths of the regiment is its effective community relations, which helped the SFR(A) attain significant accomplishments in combat, as well as the surrender of enemies of the state.
During the celebration, Zagala said the SFR(A) demonstrated its airborne capability through a skydiving exhibition followed by an anniversary program proper, where the PA chief led the awarding ceremony of the regiment's outstanding military personnel, civilian personnel, and Special Forces alumni.
Before the awarding, Alberto donned the star-rank insignia to the SFR(A) commander, Col. Lincoln Francisco T. Tagle.
Alberto also visited the Special Forces Airborne School and had a brief talk with the students, who were newly-commissioned officers from the Philippine Military Academy (PMA) Class of 2019 and other SFR(A) personnel.
Fresh from their graduation last May, this PMA batch was directed by the Army chief himself to undergo airborne training. The regiment continues to innovate and develop its capabilities in unconventional warfare to better serve its mandate.
"The Philippine Army will continue to support your initiatives in sustaining your unit by giving you the best equipment and training. Together, let us move course towards becoming a world-class Army that is source of national pride," Alberto said. (PNA)