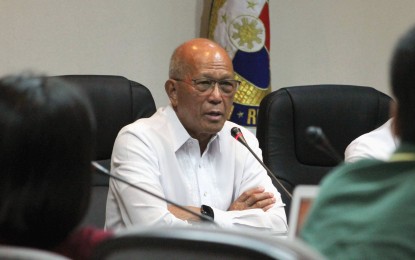 MANILA -- The Communist Party of the Philippines-New People's Army (CPP-NPA) are the enemies of development, hence the spate of persona non grata declarations coming from local government units (LGUs), Defense Secretary Delfin Lorenzana said Thursday.
This was his response when sought for a comment on why more and more LGUs are declaring the communist rebels as persona non grata.
"First, more and more LGUs are declaring the CPP-NPA as persona non grata because they are finally realizing the deleterious effect of the presence of NPAs in their community. The NPAs prevent development by burning equipment and extort from businessmen," Lorenzana said in a message to the Philippine News Agency.
The CPP-NPA is listed as a terrorist organization by the United States, the European Union, the United Kingdom, Australia, New Zealand and the Philippines.
Aside from extortion and other atrocities, NPAs routinely kill anyone refusing to give in to their demands.
"They kill those who do not cooperate with them," Lorenzana said.
Also, the DND chief attributes the communist rebels downtrend to the activation of Executive Order (EO) 70 which created a task force to end communist insurgency.
"The turn around is the result of EO 70 that created a Task Force to end Communist insurgency. It is Whole-of-Government Approach to address this 50-year-old menace," he added.
EO 70 was signed by President Rodrigo R. Duterte on December 4, 2018. The EO created the National Task Force to End Local Communist Armed Conflict (NTF ELCAC), chaired by the President, "to synchronize the utilization of the government's instrumentalities of power with the capabilities of private sector stakeholders to finally end the 50-year long deceit, lies and atrocities committed by the communist terrorists against the people". (PNA)