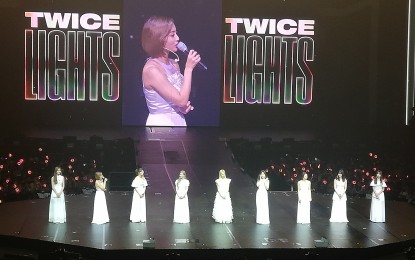 MANILA -- Thousands of Filipino fans (aptly called, "PH ONCE"), overwhelmed the South Korean girl group, TWICE, with their support, warmth and energy, during their concert at the Mall of Asia Arena on Saturday.
Hundreds even came at the arena to try their luck if they could still purchase a concert ticket.

Through the help of an interpreter, each of the ladies said it was the group's first time to perform in the Philippines, and they were surprised by the huge support from PH ONCE.

They said they appreciate the Filipino fans' warmth and even described that their Filipino concertgoers had the highest energy.

"Your scream is so loud that I could not even hear myself," Dahyun said in Korean.

Jihyo, on the other hand, mentioned she has been to Cebu before and was surprised that many people recognized her.
The girls also noticed that the VIP standing section was full. They were thankful for everyone's support, saying the Filipinos made them feel they really waited for three years for TWICE to finally perform in the country.

Boys, girls, and even members of the lesbian-gay-bisexual-transgender (LGBT) community joined the ladies in singing and dancing to their songs. Among their hits include "TT", "Fancy", "What is Love", "Likey". They also performed Lady Gaga's Born this Way.

Shortly before TWICE came back to the stage for its final performance, the camera was focused to some ONCE as they dance to the group's songs. The ladies said they enjoyed it watching backstage.
A member earlier said she was surprised that even if they sang a ballad, the Filipinos could still sing along.

Nayeon, Jeongyeon, Momo, Sana, Jihyo, Mina, Dahyun, Chaeyoung, and Tzuyu have prepared something to say in Tagalog, such as "Mamimiss kita (I will miss you), "Salamat po (Thank you), "Mahal namin kayo" (We love you).

They promised they will try their best to come back to the Philippines as soon as possible.

"We hope to be back really soon, and give you better performances," the ladies said. (PNA)