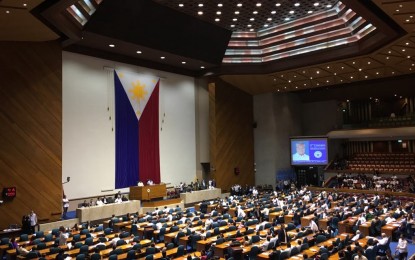 MANILA -- The Freedom of Information (FOI) Bill and the Absolute Divorce Bill were among the first measures filed on Monday at the House of Representatives prior to the formal opening of the 18th Congress on July 22.
Both bills have been approved by the House on third and final reading in the 17th Congress, but failed to hurdle the Senate.
Cebu City Rep. Raul Del Mar refiled the FOI bill which "seeks to provide citizens access to official records, documents, and papers pertaining to official acts, transactions or decisions, and government research data used as basis for policy development".

The Cebu lawmaker pointed out that access to public records means access to evidence vital to proving public officials accountable for wrongdoing.
"But more than that, it serves as a great deterrent to wrongdoing," he said in his explanatory note.
A version of the measure was approved on third and final reading by both the House and the Senate during the 14th Congress, and was further approved by the bicameral conference committee during that time, according to him.
However, the bicameral report was only ratified by the Senate, as the House failed to muster a quorum on the last session day of the 14th Congress.
"I hope the measure will be prioritized in the 18th Congress," del Mar said.
In the meantime, Albay Rep. Edcel Lagman refiled his proposed bill instituting absolute divorce in the Philippines.
Lagman said the Absolute Divorce Bill is a sequel to the Reproductive Health Act which he principally authored.
"Like the RH Law, the bill granting absolute divorce is a pro-woman legislation because it is the wives in irreconcilably broken marriages who need relief from their husbands' philandering and cruelty," Lagman said.
Other measures refilled on Monday after failing to get the Senate's nod in the 17th Congress were Lagman's Human Rights Defenders Protection Bill and Del Mar's Motorcycles-for-Hire Bill.
The Human Rights Defenders Bill guarantees protection from harassment and assault of human rights advocates and defenders.
On the other hand, the Motorcycle Bill allows and regulates the use of motorcycles as public utility vehicles.
The Medical Marijuana Bill was also refiled, this time by Isabela Rep. Antonio Albano.
The bill seeking to legalize and regulate the use of medical marijuana was first filed by his brother, former congressman and now Isabela Governor Rodolfo Albano III.
A booth has been set up at the House's South Wing Lobby for lawmakers and their staff who want to file their bills and resolutions way ahead of the opening of sessions on July 22.
As of 6 p.m. Monday, a total of 890 House Bills and 24 House Resolutions have already been filed. (PNA)