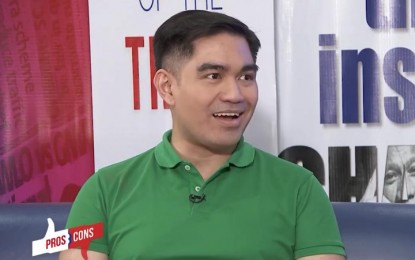 MANILA -- The fight to legalize same-sex marriage in the Philippines has always been put to uncertainty due to the dominance of Catholic belief in the country and the legislation.
But with President Rodrigo R. Duterte's open mind on the issue, the drive to push for its passage is back on course.
Lawyer Jesus Nicardo Falcis III, a self-identified gay man, said the Lesbian, Gays, Bisexual, Transgender (LGBT) community counters the argument of conservative faith as they are pushing for legality more than morality.
"We have no legal rights for LGBT couples; on conjugal ownerships. 'Yung partners na nagsama for years, decades until death may naipundar na 'yun sila pero pagka-namatay 'yung isa, sa mga kamag-anak na posibleng nagtakwil sa kanya pa ang makakatanggap ng properties na nakapangalan sa kanya (Those who have been together for years, decades until death have acquired properties together but in cases of one's sudden death, his relatives, who likely ostracized and despised him, are the ones receiving the property in his name, not his partner)," he said during the Philippine News Agency's Pros and Cons episode on same-sex union.
Under the law, in cases of death without the last will and testament, the wife, ascendants, and descendants will receive the inheritance.
But without any marriage certificates to show, no matter how long a gay couple has been together and no matter how much money the other person in the relationship has poured in for the property if it is under the deceased name, they will not get any share.
This is the same for SSS and GSIS beneficiaries -- the primary is the legitimate dependent spouse, secondary are parents.
Initially, the lawyer insisted on a revisitation of Family Code's limit of marriages to heterosexual couples. But through time, Congress resorted to another solution to address the issue since marriage, according to the Constitution, is inviolable. It is also the main argument of those who oppose the proposal.
Bataan first District Representative Geraldine Roman, the country's first transwoman legislator and a supporter of the same-sex civil union bill, has said that the only difference between a civil union and marriage is that marriage has a "religious connotation".
House Bill 6595, which legalizes civil unions and was filed by former Speaker Pantaleon Alvarez at the House of Representatives, is the better option. Roman said they have all been advocating for this.
The same-sex civil union has Duterte's nod because it "fixes the different aspects of the union of those of the same sex," said former Palace spokesperson, lawyer Harry Roque. (PNA)