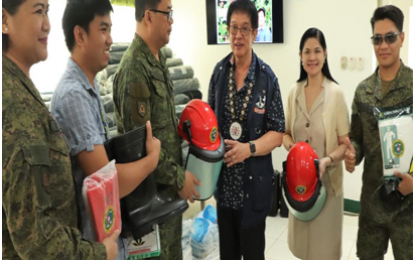 CAMP GEN. CAPINPIN, Tanay, Rizal – The Army Station Hospital of the 2nd Infantry Division, Philippine Army here received some PHP1.5 million worth of anti-dengue supplies and protective equipment from the Department of Health (DOH) regional office in Calabarzon on Tuesday.
DOH-Calabarzon Regional Director Dr. Eduardo Janairo, along with Regional Communicable Disease Control Cluster Head, Dr. Mara Elena Gonzales, and Regional Dengue Prevention and Control Program Coordinator, Jomell Mojica, spearheaded the turn-over of anti-dengue and other vector control supplies to Army Station Hospital commanding officer, Col. Armando. Lacanilao, and hospital staff.
"We have included all sectors including military camps in our efforts to lessen and eliminate dengue in the community. We have to ensure everyone including our uniformed personnel, soldiers are safe and protected against mosquito bites that is why we have provided vector control supplies," Janairo said.
Janairo, together with Lacalinao, DOH officials and hospital staff also led the ceremonial installation of the anti-dengue olyset nets as window screens at the army hospital.
"The distribution and installation of Olyset treated nets inside the camp including the hospital is accompanied with the regular anti-dengue misting and clean-up operations. The mosquito nets are embedded with permethrin, which will provide (a) five-year protection from mosquitoes and other insects," he added.
DOH turned over the assorted anti-dengue supplies comprised of around 150 rolls of olyset nets worth PHP1.2 million; some 500 insecticide-treated bed nets worth PHP222,500; two spray cans for residual spraying at PHP28,776; five boxes of insecticides for residual spraying worth PHP41,250 and personal protective equipment (PPE) amounting to PHP6,800.
"We shall continue to support our military personnel in the prevention and control of vector-borne diseases that may affect their health and well-being in the performance of their functions and duties for the preservation and security of our country," Janairo assured.
He emphasized the need for preventive measures as best protection against dengue following reports from the Regional Epidemiology and Surveillance Unit (RESU), which recorded a total of 9,669 dengue cases this year, indicating a 10 percent increase from last year's 8,825 cases during the assessed period.
RESU also reported that the age of the dengue cases ranged from one year to 66-year-old and around 39 deaths were already recorded.
Most affected are males with a total of 5,062 or 53 percent while female cases number around 4,543 or 47 percent.
According to the DOH Calabarzon, Cavite recorded the highest number of cases with 2,651 followed by Batangas with 2,123; Laguna - 1,966; Quezon – 1,653 and Rizal – 1,276.
Calabarzon towns and cities having the highest number of dengue cases include Dasmariñas City, Cavite with 567; Calamba City, Laguna – 457; Lipa City, Batangas – 427; Batangas City – 422; Bacoor City, Cavite – 360; Antipolo City, Rizal – 355; Lopez, Quezon - 354; and Cabuyao City, Laguna with 310. (PNA)