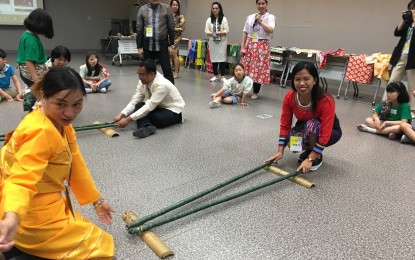 LAOAG CITY -- At least 20 Filipino teachers representing eight regions in the country are currently making waves in Korea for teaching young Koreans about the Philippines' rich history and culture.
For 39-year-old public school teacher, Chandler Ibabao, from a remote village in Pudtol, Apayao, visiting Korea to participate in the United Nations Educational, Scientific and Cultural Organization (UNESCO) Asia-Pacific Center of Education for International Understanding (APCEIU) Teacher Exchange Program is far from her "wildest imagination".
The Apayao native said she is happy she made it this far.
Under the program, some selected teachers from the Philippines will teach their major subjects, along with Philippine history and culture, to elementary and middle school students in various regions of South Korea.
Similarly, Korean teachers will also be in the Philippines next month to teach Filipino children.
Elated with her three-month long teaching experience at the Daejeon Jeonmin Elementary School in South Korea, Ibabao said she is eager to go back to the Philippines and share what she had learned to fellow educators and students.
In her farewell speech to her host school which she posted on Facebook on Wednesday, Ibabao said, "I will be forever grateful and indebted for making me feel at home away from home. Thank you for giving me multiple opportunities as to work, travel and cultural exposure which made me a better individual."
She added her remarkable learning experience with the Korean school made her more inspired to teach young minds.
The Korea-Philippines Teacher Exchange Program was launched in 2012 aimed at promoting international understanding and peace through education with the support of the Department of Education (DepEd). (PNA)