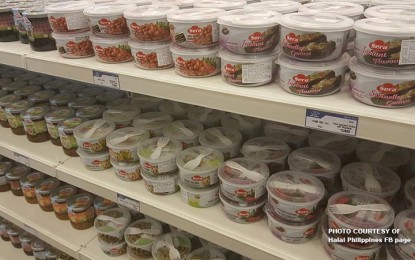 CLARK, PAMPANGA -- Department of Trade and Industry (DTI) Secretary Ramon Lopez reiterated in a statement on Thursday the need to increase Philippine halal products in domestic and export markets to maximize the opportunities of a growing global halal market amounting to USD2.6 trillion.
During the 2nd PH National Halal Conference on Wednesday at Quest Conference Center in Clark, Pampanga, Lopez emphasized that halal is not just a certification for products that will cater to the Muslim market but a growing sector that has gained consumer acceptance even by non-Muslim consumers as well.
"Halal is not just for the Muslims, it is a way of life. It connotes purity, cleanliness, safety, and quality -- so many positive attributes that are now being recognized by non-Muslim consumers worldwide. Halal-certified products are associated with these attributes. Maximizing its opportunities will help the government in realizing President Rodrigo Duterte's vision of providing better and comfortable lives for all Filipinos by creating more jobs. And we can do this by tapping halal's booming global market and taking advantage of more business opportunities," Lopez said.
Out of the USD2.6 trillion global halal market, 62 percent is accounted by food and beverages followed by pharmaceuticals at 22 percent, cosmetics and personal care at 10 percent and nutraceutical at 6 percent.
"We encourage our MSMEs, especially in the countryside, to develop their products, and explore the opportunities in the growing demand for halal-certified products," Lopez added.
Halal market is estimated to reach USD10 trillion by 2025. Its food and beverage is expected to reach USD 1.93 trillion by 2022 from USD 1.25 trillion in 2016.
A growing projection is also noted in halal tourism, which accounted for USD169 billion in 2016 and is expected to reach USD283 billion by 2022. Other services, like the Islamic Finance and Islamic Commercial Banking combined accounted for USD3 trillion in 2016 and is expected to reach more than USD6 trillion by 2022.
"I am optimistic that with greater collaboration between various sectors, we can support more MSMEs, encourage them to do and grow their businesses, and help us in developing more halal hubs in the country catering to domestic as well as export markets," the trade chief said.
The conference also served as venue for DTI, as Chair of PH Halal Board, to officially launch PH Halal logo, which will be used for halal products made in PH.
"We would like to see notable exports of our halal products in the future. With this logo, our products can be identified easily by consumers as halal-certified products," Lopez said.
The trade chief also shared that DTI's accreditation bureau will implement a special window to cater to PH Halal Certification Bodies.
According to the DTI, the existing halal logo of halal certification bodies will still be allowed, especially if this is part of respective internal requirements.
Also present during the event were DTI Undersecretary Abdulgani Macatoman and Export Marketing Bureau Director Senen Perlada, National Commission on Muslim Filipinos Executive Director Tahir Lidasan Jr., Standards and Metrology Institute for Islamic Countries Secretary General Ihsan Ovut, and lawyer Rhaejee Tamaña from the office of Senator Cynthia Villar. (PR)