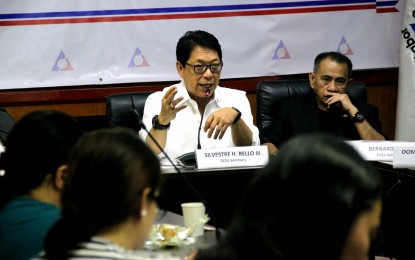 MANILA — The Department of Labor and Employment (DOLE) on Thursday welcomed the proposed bill requiring the grant of 14th-month pay to private sector employees.
Labor Secretary Silvestre Bello III, however, noted that they will study the proposed measure to consider the interest of both labor and management, as well as its impact on the country's economic stability.
"We support anything that benefits our workers and their families. However, we must ensure that the proposal will not cause an imbalance between the needs of labor and the capability of employers. We must study it very well," Bello said in a statement.
Aside from studying the proposed bill, Bello said it must undergo a tripartite assessment to find out its viability under the country's present economic situation.
Bello said there is a need to consider the capability of the employers, considering that the country's economy largely depends on the sustainability of its micro, small, and medium enterprises (MSMEs).
"We must take note that around 90 percent of the businesses in the country are MSMEs, so we must always consider the capability of the employers to bear extra expenses," he said.
"We do not want to give our workers with false expectations that might result to industrial controversy," Bello added.
Senate President Vicente Sotto III has re-filed Senate Bill No. 10, otherwise known as "An Act Requiring Employers in the Private Sector to Pay 14th Month Pay".
The bill seeks to give 14th-month pay to "rank-and-file employees regardless of their employment status, designation, and irrespective of the method by which their wages are paid provided that they have worked at least one month during the calendar year".
The proposed measure has been pending in the Senate since July 2016.
Currently, private sector workers are receiving 13th-month pay, which is mandated under Presidential Decree 851.
The monetary benefit shall be released not later than December 24.
However, an employer may give to his or her employees half of the 13th month pay before the opening of the regular school year and the remaining half on or before December 24 every year. (PNA)