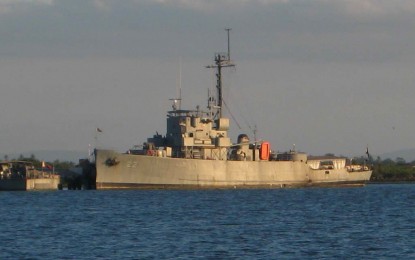 MANILA -- One of the last World War II-era warships in Philippine Navy (PN) service, the BRP Sultan Kudarat (PS-22), will be formally decommissioned from active service on Friday.
Decommissioning ceremonies will be held at the Captain Salvo Pier, Naval Base Heracleo Alano, Sangley Point, Cavite. Its retirement is in line with the PN's "Phase-In/Phase-Out" Program which is implemented to welcome new and more modern naval assets.
Rear Admiral Giovanni Carlo Bacordo, Philippine Navy Fleet commander, said the decommissioning of older naval platforms is being done to ensure that there are sufficient officers and enlisted personnel to man the new ships now in the pipeline.
The PN has acquired the BRP Conrado Yap (an ex-Pohang-corvette of the South Korean Navy) which will arrive sometime in July or August and two Jose Rizal-class missile frigates by next year aside from three multi-purpose attack craft armed with Spike-ER surface-to-surface missiles by the first quarter of 2020.
"This is part of 'Phase-In/Phase-Out' of the PN (which is) in preparation for our more capable and modern platforms," he added.
Bacordo said more and more World War II or "legacy" ships will be retired from service once their replacements are ready.
The PN is known to operate at least four to six World War II-era ships as of this posting. BRP Sultan Kudarat, formerly the USS Crestview (PCE-895), was commissioned by the US Navy on October 30, 1943.
It was transferred to then South Vietnam on November 29, 1961 and was renamed the RVNS Dong Da II (HQ-07) until its escape to the Philippines in 1975 shortly after the fall of South Vietnam to North Vietnam.
The ship was commissioned into PN service on July 27, 1976 and renamed the BRP Sultan Kudarat, serving 43 years with the Offshore Combat Force.
Last year, the PN also decommissioned BRP Rajah Humabon (PS-11), another World War II-era ship, after 38 years of service. (PNA)