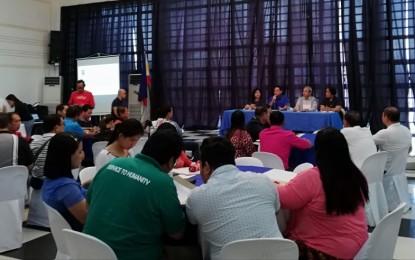 ILOILO CITY -- With the alarming rise of dengue cases in the province, Iloilo Governor Arthur Defensor Jr. announced on Thursday that he will issue an executive order declaring an outbreak in the province.
During the regular meeting of the League of Municipalities of the Philippines (LMP-Iloilo), Defensor discussed with all the municipal mayors the interventions to be taken to prevent the surge of dengue cases.
He said the executive order declaring the province under a dengue outbreak will be forwarded to the Sangguniang Panlalawigan next week to be the basis for the declaration of the state of calamity.
"The practical consequence of the declaration, we will trigger the use of the calamity fund. Right now, it is not a problem because when we checked the budget, we still have the source of emergency purchase to address the curative aspect of dengue," Defensor said in an interview during a break in the meeting with the mayors.
All of the 43 mayors of the local government units of the province agreed to conduct province-wide clean-up drive that will be held every Saturday starting July 6.
The governor said the clean-up drive will be conducted for four consecutive weeks.
The Saturday clean-up drive will kick-off with a barangay assembly where locals will be taught the 4S Strategy against dengue. "We will explain to the people that we are facing a problem," he said.
Aside from the clean-up drive, spraying to kill adult dengue-carrying mosquitoes will also be conducted in villages with clustering of cases.
The preventive efforts against dengue this month is undertaken for the anticipatory of the increase that will happen in August, Defensor said.
The province is also preparing for the emergency purchase of IV fluids, medicines for stomach upset and fever of dengue patients, and dengue diagnostic kits.
Defensor said that the province has enough supply of the primary needs for dengue for two weeks "but might run off the supply for the next weeks".
According to the data of the Provincial Health Office from January 1 to June 28, the province has already recorded 3,897 cases of dengue. This is 788 percent higher than the 439 cases recorded in the same period last year.
Pototan topped the list with 376 cases followed by Passi City with 317, Calinog with 252, Concepcion with 214, and Cabatuan with 181.
As of 9 a.m. on Thursday, a total of 560 patients are admitted at the district hospitals.
Ramon Tabiana Memorial District Hospital in Cabatuan has the most dengue patients admitted with 113; Jesus Colmenares District Hospital in Balasan with 93; and Sara District Hospital with 82. (PNA)