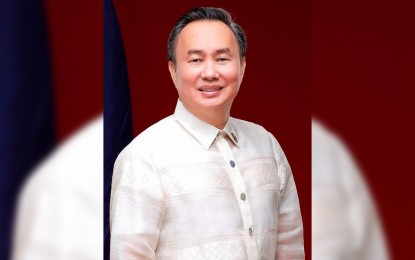 MANILA -- Cavite 7th District Rep. Abraham "Bambol" Tolentino has formally declared his intention to run as president of the Philippine Olympic Committee (POC).
Tolentino, who resigned as POC chairman, made the announcement on Thursday during a press conference where he also discussed the recommendation of the International Olympic Committee (IOC) and the Olympic Council Asia (OCA) to follow due process in electing new officers.
"Yes, I'm officially running for president," said Tolentino, who is the president of PhilCycling, one of the 42 regular members of the POC.
The election day, which is set on July 28, will fill up the posts vacated by Tolentino, president Ricky Vargas, and board members Clint Aranas and Cynthia Carrion.
In accordance with the IOC letter dated July 2 and signed by IOC director of Olympic Solidarity and National Olympic Relations James Macleod and Olympic Council of Asia (OCA) director general and technical director Husain Al-Musallan, the POC will hold a special board meeting on July 8, a first extraordinary General Assembly meeting on July 18 and a second extraordinary General Assembly meeting and elections on July 28.
The IOC/OCA will send a representative to the July 18 and July 28 meetings.
"We call upon the current leadership and members of the POC to fully support this process and implement it in good faith and beyond any personal consideration. with the only intention to resolve the current situation in the interest of the Olympic Movement and the athletes in the Philippines," the IOC letter read.
Meanwhile, Tolentino has assured that the preparation for the country's hosting of the 30th Southeast Asian Games in November is ongoing.
"Don't be distracted with the POC issue. Everything is in place," said Tolentino, who attended the competition managers and venue managers meeting on Wednesday.
"The technical handbooks are 80 percent ready. All 56 competition managers were present," Tolentino said.
The SEA Games features 56 sports to be held in 44 venues divided into four clusters. (PNA)