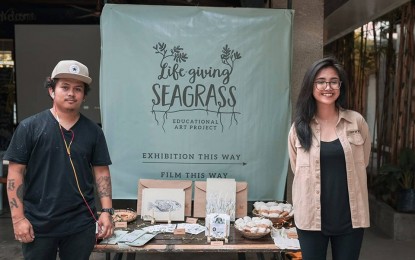 DUMAGUETE CITY – Two young budding artists here are collaborating with environmental groups in the push for the protection of seagrass through an art exhibit dubbed Life-Giving Seagrass Educational Art Project.
The artworks of Dumaguete-based artists Cil Flores and Angelo delos Santos are on display in the exhibit, which opened recently at the Flying Fish Hostel here.
They said it is through their artworks that they contribute to environmental awareness and protection.
"I also want to educate and influence other people about the importance of getting involved in the protection of not only seagrass but also our marine ecosystem and the whole planet," said Flores, a self-taught artist who is slowly practicing sustainable living,
She believes that art influences people and captures their attention and that it is an effective communication tool to get people engaged in social and environmental issues.
"By creating artworks which feature themes like climate change, I am hoping that I can influence, inspire, and motivate artists and other people, especially the younger generation, to take a stand and get involved in protecting our ecosystem," she said.
On the other hand, delos Santos, another self-taught artist, said: "raising awareness about life-giving seagrass has inspired me to want to be a part of this exhibit."
"I want to show through my art that both sea creatures and seagrass need each other to survive," he said.
"For me, in this generation, environmental advocacy is better expressed and understood using art because people nowadays, especially, the youth, are more attracted to artistic conveyance," he added.
Jane of Caus Planet Creative Studio, the event organizer, said together with The Flying Fish Hostel, they wanted to support environmental conservation organizations in the Philippines and linked with another environmental group, Big Blue Network, for the art project.
Working with Big Blue Network in Zamboanguita, Negros Oriental, Spiridonova said they learned a lot about seagrass that they wanted to share it with people in every aspect of visual communication.
She said they chose Flores and delos Santos because "as rising artists, they showed themselves as hard working persons with responsibility and passion to the process."
The group had worked with the two artists in a previous collaboration, "Reasons We Love the Philippines", an exhibit of ukuleles with artistic drawings by local artists.
"We expect to raise more awareness about seagrass protection here in the Philippines," she said.
At the opening of the exhibition, which runs for two weeks, was a film showing about seagrass to help spread awareness to and educate people about its importance.
Seagrass provides shelter and food to a diverse marine community but is now deteriorating due to human activity.
For instance, dugongs or "sea cows" graze on seagrasses, and the dugong is classified as "vulnerable" in the Red List of Threatened Species of the International Union for Conservation of Nature (IUCN), according to the latter's website.
There is a growing need to educate the people about seagrass because many people do not even know about it, such as it is a plant and not a seaweed, she said.
"It is the habitat to many fish invertebrates and the main food source for such creatures as green sea turtles," she added.
The proceeds from the sales of original artworks and art prints will be donated to the Big Blue Network to support its marine education programs with local kids. (PNA)