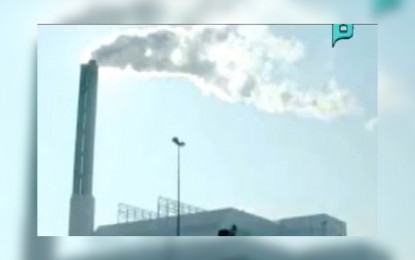 MANILA – An environmental alliance said on Friday it plans to sue the country's local chief executives who will build and operate waste incinerators.
Republic Act 8749 (Philippine Clean Air Act of 1999) prohibits waste-burning so local officials must not insist on building and operating incinerators, said Glenn Ymata, senior campaign manager of environmental alliance No Burn Pilipinas (NBP).
"Incinerating waste is illegal so we're planning to file administrative cases against local chief executives who'll do so," he said on the sidelines of a waste management briefing in Quezon City, noting that the group is also mulling filing criminal charges against local officials.
Waste-to-energy (WtE) technology that produces energy by burning trash remains an option of the environment department's Environmental Management Bureau (EMB) to address the nationwide garbage problem despite various groups' opposition.
EMB officer in charge Assistant Director Vizminda Osorio said increasing the waste generation, sanitary landfills' diminishing capacity to accommodate garbage, and LGUs' hesitation to host these facilities prompted the need for WtE.
"WtE technology has already improved over the years," she said, allaying fears of environmental groups that it is dangerous to health and the environment.
Other countries' experience shows WtE technology is safe and effective in addressing the garbage problem there, she said.
On the other hand, Break Free from Plastic movement coordinator Von Hernandez said the term "WtE" is just "linguistic trickery" to conceal the fact that this technology still burns waste.
To address the country's garbage problem, Hernandez said there is a need for LGUs nationwide to implement RA 9003 or the Ecological Solid Waste Management Act of 2000.
"We have shining examples of LGUs that implement and prove the superiority of solid waste management (SWM)," he said.
He said among such LGUs is San Fernando City which is implementing SWM measures like recycling, enabling this capital of Pampanga province to divert from landfills about 80 percent of its total waste.
According to RA 9003, the SWM is "the discipline associated with the control of generation, storage, collection, transfer and transport, processing, and disposal of solid wastes in a manner that is in accord with the best principles of public health, economics, engineering, conservation, aesthetics, and other environmental considerations, and that is also responsive to public attitudes."
Meanwhile, solid waste expert Dr. Paul Connett recommends the composting of waste instead of incineration.
"Most of your waste is organic," he said, describing predominant nature of trash in the country.
He urged the public to segregate waste, saying this is the first step in addressing the country's garbage problem.
"The problem is when you mix waste," he said.
Ymata said since local chief executives assumed their posts just this week, the NBP will advocate SWM to them.
He said NBP is prepared to join LGU discussions on addressing the waste problem.
Earlier, Environment Undersecretary Jonas Leones assured the department continues to enforce environmental laws.
"There's a Supreme Court (SC) resolution that says not all incineration is banned by RA 8749," he said.
That means the department can allow WtE projects with incineration processes that comply with standards including those for emissions, he said.
In its 2002 resolution, the SC said RA 8749's Section 20 "does not absolutely prohibit incineration as a mode of waste disposal; rather, only those burning processes which emit poisonous and toxic fumes are banned." (PNA)