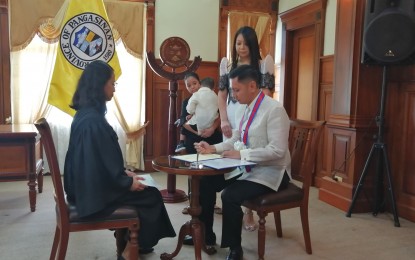 MANGALDAN, Pangasinan -- Pangasinan Vice Governor Mark Lambino has vowed to implement transparency and collaboration as he leads the Sangguniang Panlalawigan (SP) as the new presiding officer beginning Monday.
"We want to be transparent of the ordinances and resolutions that are tackled in the province will be made known to the Pangasinenses immediately. We do not want them to be surprised of the new policies that are being implemented," he said in an interview earlier.
He said the SP will also pursue collaboration, although he belongs to the political party opposing that of Governor Amado Espino III.
"The election is over. At the end of the day, all elected officials are public servants only. Collaborative because we are not going to be obstructionists to the programs that are for the betterment of the province, but we are also going to be critical to members of SP. We have to be aware and be made aware, we have to make the people be aware on what is going on," Lambino said.
He said the taxes of the province are paid by the people, therefore, they have the right to know where their taxes are being used for, and they want these taxes to be utilized in a good, proper and clean way.
The inaugural session of the 10th SP was held on Monday, July 8.
Lambino said traditionally, the inaugural session is held on the second Monday of July.
The vice governor, accompanied by his wife, lawyer Lani Sia-Lambino and their son Luke, took his oath of office last June 30 before Regional Trial Court Judge Maria Laarni Parayno.
At the same time, his mother Marilyn took her oath as mayor of Mangaldan town, witnessed by his father, Secretary Raul Lambino, Presidential Adviser for Northern Luzon and Cagayan Economic Zone Authority (CEZA) Administrator.
Meanwhile, the members of the 10th SP are Board Members Donabel N. Fontelera and Margielou Orange Humilde-Versoza (first district); Von Mark R. Mendoza and Nestor Reyes (second district); Angel Baniqued, Jr. and Vici M. Ventanilla (3rd district); Jeremy Agerico Rosario and Liberato Villegas (fourth district); Rosary Gracia Perez-Tababa and Nicholi Jan Louie Q. Sison (fifth district); and Noel Bince and Salvador Perez (sixth district). (PNA)