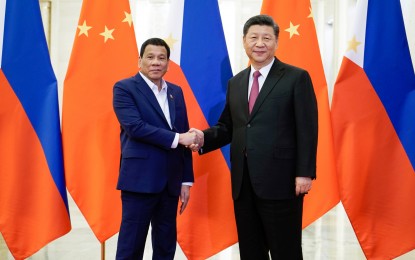 MANILA -- President Rodrigo Duterte on Monday said he may educate the public on the constitutionality of his fishing agreement with Chinese President Xi Jinping during his fourth State of the Nation Address (SONA) on July 22.
The October 2016 agreement between Duterte and Xi allows the Chinese to fish within the Philippines' 200-nautical mile exclusive economic zone (EEZ), for as long as China will allow Filipinos to fish in the Panatag (Scarborough) Shoal.
"Sabi nila na (They say it's) unconstitutional, well, you wait. Maybe sa (during the) SONA, I will educate people na 'yung ginawa ko, sabi ko you can fish ano... Tama talaga ako. At hindi maging unconstitutional 'yan. (that what I did, allowing them to fish…I'm actually right. It's not unconstitutional)," Duterte said in a chance interview with reporters after the oath-taking of new government appointees.
"By any stretch of imagination, hindi unconstitutional 'yung ginawa ko (what I did is not unconstitutional). As a matter of fact, it was in keeping with the law," he added.
Duterte said Supreme Court Senior Associate Justice Antonio Carpio's remark saying he committed a constitutional infraction by allowing Chinese to fish within Philippine's EEZ has "not been studied."
"Kung sabihin mo (If you say) I committed a constitutional infraction because I allowed the Chinese fishermen to fish, hindi nila pinag-aralan talaga (it really has not been studied)," Duterte said.
"Kaya 'wag kayong maniwala niyang mga constitutionalist-constitutionalist. Mga Carpio diyan, susmaryosep (That's why don't believe in those constitutionalists. Those Carpios there)," he added.
Duterte said insisting on driving the Chinese away from fishing within the Philippine's EEZ in the West Philippine Sea would be futile since the Asian superpower would not allow itself to be bullied.
"I go there and insist on driving them out? You would think China would --- would allow itself to be bullied? Kaya ang tanong ko sa inyo (That's why my question to you) is who is in the possession of the property under the claim of the legitimate ownership?" Duterte said.
He explained that despite the Permanent Court of Arbitration (PCA) ruling, which recognizes Philippine sovereign rights over the EEZ, China will still insist on owning the majority of the disputed waters.
Compare notes
Meanwhile, Duterte said he agreed with the findings of the Philippine Coast Guard (PCG) and Maritime Industry Authority (Marina) which categorized he June 9 Recto Bank (Reed) Bank incident as a "very serious marine casualty" despite earlier describing it as "a little maritime accident."
"It is a serious ah… Pero when you talk about marine transportation and all, it is a maritime incident. And that is very small because nobody died," Duterte said.
He, however, said that he was not inclined to push to make sure that the Chinese crew are held liable.
"No, we have our recommendations, we have our report. Then we will wait for China to make its report. Then we can compare notes," Duterte said.
"And then kung sino 'yung within a better position to assert justice, gawain nila 'yan. Kung sila, magbayad sila (Whoever is in a better position to assert justice, they should do it. If it's them, they should pay)," he added.
Panelo earlier said the Palace will insist on the liability of the Chinese crew but at the same time, said that the marine incident should not be made into an "international crisis."
The Palace official said that the only way for the Chinese crew to justify the abandonment of Filipino fishermen at sea is if their lives had been endangered. However, the Chinese Embassy has denied the abandonment claiming that the vessel was "besieged" by several Filipino fishing boats.
In its report, PCG-Marina concluded that the Chinese vessel failed to prevent the collision with a Filipino fishing boat anchored in the area and failed assist 22 Filipino fishermen who were abandoned at sea.
Call to US
Duterte also reiterated his challenge to the United States to help the Philippines claim its territories.
"Kung gusto talaga ng Amerika na paalisin 'yung China, hindi ko man kaya, maghingi ako ng tulong sa kanya (If America really wants to drive away China, since I can't do it, I will ask help from them). I want the whole fleet of the Seventh --- the Seventh Fleet of the Armed Forces of the United States there," Duterte said.
Duterte then spoke of inviting former Foreign Affairs Secretary Albert del Rosario and former Ombudsman Conchita Carpio-Morales to ride with him on his way to wage a war against China.
Del Rosario and Carpio-Morales earlier filed a complaint before the International Criminal Court (ICC) against Chinese President Xi Jinping for alleged crimes against humanity in the disputed South China Sea.
"Magpasok sila sa China Sea, magpasok ako (They can enter the China Sea, I will enter). I will ride doon sa Amerikano na mauna doon sa ano (in America but they should go first). I will invite Carpio, del Rosario, Morales to ride with me," Duterte said.
"Then sabihin ko sa Amerikano, 'Sige, pasabugin na natin lahat.' Tingnan... Wala. 'Yan man ang gusto nila away talaga (Then I'll tell the Americans, 'Okay, bomb them all.' See. That's what they want, a war)," he added. (PNA)