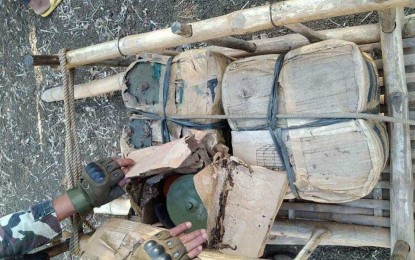 ILOILO CITY -- The 3rd Infantry Division (3ID) of the Philippine Army (PA) has condemned the Communist Party of the Philippines-New People's Army's (CPP-NPA) continuous stockpiling and production of anti-personnel mines.
The Army recovered an anti-personnel mine from the Sangay sa Partido sa Platoon (SPP)-East, Komiteng Rehiyon – Panay of CPP-NPA during a strike operation on Friday in President Roxas, Capiz.
Capt. Cenon Pancito III, 3ID's Public Affairs Office chief, on Tuesday said the recovery of the anti-personnel landmine in the recent encounter manifests that the rebels continuously use the explosive to carry out their tactics.
"The AFP always condemns the use of landmines in any form, especially the anti-personnel mines. It could be used against the soldiers or the populace," Pancito said in a phone interview.
"The landmines will explode once stepped upon by the recipient and can cause mass destruction," he said.
He said the minimum damage that can be left by the landmine to the victim is amputation or loss of body parts, especially on the bottom portion of the body.
The rebels usually plant anti-personnel mines to slow down operations of the Army, he said.
"For example, they will camp on top of the mountain, they will plant anti-personnel landmine on the way to their camp. Once the Army will operate against them, their instinct is to flee but the landmine will still be there and can cause destruction not only to the troops but also to the civilians," he said.
The continuous use of this kind of explosive only shows their "coward" tactics in the battlefield, he added.
He said the use of anti-personnel landmine is a clear violation of the Republic Act 9851 or the crimes against International Humanitarian Law, genocide and other crimes against humanity.
"We consider it a crime against humanity because it is not only the Army or the government troops that can be casualties but also innocent people," he said.
The rebels' use of anti-personnel landmine is also a violation of the Comprehensive Agreement for Human Rights and International Law.
Pancito said the CPP-NPA claim to push for humanitarian law "and yet they are the first one to violate this."
"Gladly, for Panay, we recover most of these landmines," Pancito said.
Recovered anti-personnel landmines of the AFP are in the custody of the Explosives and Ordinance Division for proper disposition, he added.
The CPP-NPA is listed as a terrorist organization by the United States, the European Union, the United Kingdom, Australia, Canada, New Zealand, and the Philippines. (PNA)