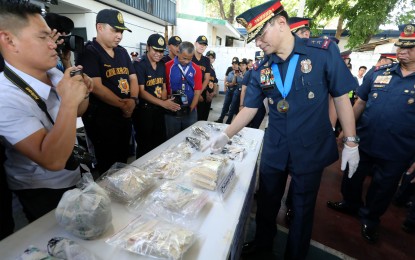 MANILA -- The Philippine National Police (PNP) on Tuesday maintained that there is no need for international human rights groups to look into the Duterte administration's campaign against illegal drugs.
"This matter is best addressed by the executive department. The PNP submits to the better judgment and wisdom of higher authorities. At best, we can only express an opinion that any foreign body that will conduct an investigation here of local crime incidents may be unnecessary," PNP chief, Gen. Oscar Albayalde told reporters during a press briefing held at Camp Crame.
Albayalde was reacting to a statement of London-based human rights organization Amnesty International (AI), urging the United Nations Human Rights Council (UNHRC) to investigate human rights violations in the government's campaign against illegal drugs.
While he respects AI's stand, the PNP chief said the Philippines has a fully functional criminal justice system that has complete jurisdiction over such domestic legal questions that need to be resolved through a formal judicial process.
"Matters involving foreign diplomatic policy are beyond the authority of the police to tread on. Allegations of killings were never proven. All our anti-illegal drugs operations continue to be conducted within the bounds of the law with utmost respect for human rights," he said.
Albayalde said based on the PNP data from July 2016 to date, the PNP has arrested a total of 240,565 drug personalities and cleared over 12,000 barangays of illegal drug trafficking and abuse.
He said the drug campaign continues because that is part of the promise of President Duterte to eliminate the illegal drug problem in the country.
"As what I have promised since I assumed this post, we will not relax, we will not relent. We will fulfill the vision of our President of a drug-free Philippines," he noted.
AI also described Bulacan as the country's bloodiest killing field with 27 reported incidents of killings between May 2018 and April 2019.
"This could be a political issue. They are searching for police operations in one place because they are trying to pinpoint a place where there are those who were killed in our police operations but we can assure, it doesn't happen only in Bulacan. There are other places too," he said.
"In fact, Bulacan is a big province. There are over one million people in terms of population. It does not happen in one municipality alone. If that only happens in one barangay, there might be a reason to be alarmed. But considering the land area of the province and the size of the population, we all know that these operations do not happen only in Bulacan," he said.
Albayalde also reported that since President Duterte assumed the post, a total of 7,982 PNP personnel have been meted disciplinary penalties for administrative offenses since 2016.
Based on the records of the PNP from July 2016 to June 20, 2019, a total of 2,400 police officers with various administrative cases were dismissed, 481 demoted, 4,161 suspended, 195 meted with forfeiture of salaries, 619 reprimanded, 41 placed under restrictive custody and 85 withholding of privileges.
A total of 422 police officers were also dismissed for their involvement in drug-related activities. Of the 422, 403 were Police Non-Commissioned Officers, 10 Police Commissioned Officers and nine Non-Uniformed Personnel.
"I want to assure the public that our internal cleansing is ongoing and I have directed the PNP Training Service to conduct a thorough research and training package for all the PNP personnel in operating units to boost the competencies and skills of every policemen and women and ensure that they have the required attitudes, proficiency, habits and values in performing their day to day duties, thus, to revitalize their knowledge and appreciation of Human Rights Principles and Standards, and most importantly to keep on reminding them not to repeat the same mistakes especially on operation of our anti-illegal drugs campaign," Albayalde said. (PNA)