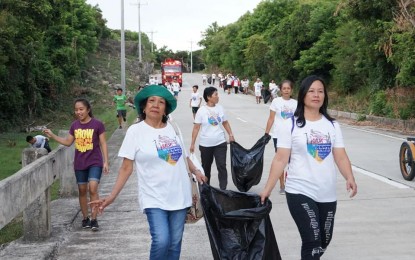 LAOAG CITY -- Even before a study disclosed that seasonal winds may be bringing dirty air from mainland China in this northern town, local officials and residents here are making some small steps to keep their surroundings clean and green.
Though the finding of the University of the Philippines' Institute of Environmental Science and Meteorology is alarming, Poblacion village chief Joegie Jimenez in Burgos, Ilocos Norte said there is a need to further validate it.
Jimenez noted his hometown is being frequented by tourists because of its natural and cinematic attractions, having no trace of air pollution.
He recalled a few sample related to the UP study was taken in 2015 near the Palalay Hotel in Barangay Bayog, Ilocos Norte.
In monitoring the health and wellness of the people, the Burgos government, led by Mayor Crescente Garcia and the Municipal Health Office, confirmed town residents are in "good health condition" with only the usual cough and colds that prevail during the cold months or the so-called 'amihan' (northeast monsoon) season.
For now, the local government unit has intensified the implementation of the Clean Air Act and no burning of solid wastes and rice straws.
The 1999 Clean Air Act exempts traditional small-scale methods of community or neighborhood burning, or "siga," but the Ecological Waste Management Act of 2000 prohibits open burning of solid wastes.
"We continue to educate our people through our waste diversion program and other pro-environment activities to ensure we have a clean air to breath and clean water to drink," Jimenez said.
He cited Poblacion as a role model in terms of its solid waste management, as well as clean and green program both in the provincial and regional levels. (PNA)