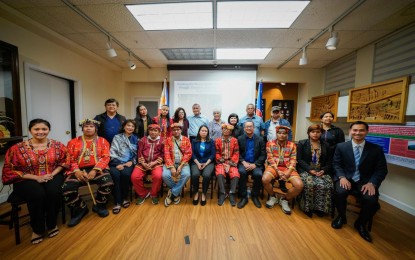 SAN FRANCISCO, California — For Filipinos here, raising the Philippine flag in a country like the United States isn't just about proving that the Filipino diaspora is worth giving a pat on the back by the diverse American culture, but also giving back to the country by speaking up for marginalized sectors back home.
Bernadette Munoz-Roco, who has been working as a nurse in California for decades, said she has been going around areas in Mindanao not just to push for her health advocacy, but to learn the issues confronting peace and development in the conflict-torn area.
Munoz-Roco was among the Filipinos who trooped to the Consulate General of the Philippines here on Wednesday, in a forum where tribal leaders spoke against the atrocities of the Communist Party of the Philippines-New People's Army-National Democratic Front (CPP-NPA-NDF).
"They were here to tell the truth. It's my first time to hear the stories of these indigenous peoples. The issues in the Philippines should matter to us, the Filipino-American (Fil-Am) community, and we should educate each other about this," she said.
Her husband Carmelo, a medical doctor, said the Filipino community should engage all Fil-Am sectors here about the fight of indigenous people to attain sustainable peace.
"If the Filipino American community knows about this, appreciates the hardships they are going through, there will be future actions to help them, not only in terms of health, but also education and improving their natural resources, preventing their community from destruction," he said.
As Filipinos, Carmelo said it is every Filipino's obligation to help the IP community "stay as it is."
"What important gift the Filipino-American community can give is to help them make sure that their communities are intact, that their standard of living improves in time, and they are able to preserve their culture," he said.
The tribal leaders, who have been getting death threats for speaking about the deception and harassments posed by the communist terrorist groups before the international community, called on Filipinos to be on the lookout for organizations here asking for donations, saying these might be funneled to groups affiliated with the communist insurgency movement.
Why United States?
Datu Jacob Lanes, of the Mandaya tribe from Davao City, said their speaking tour here is significant not only because communist front organizations receive funds from Fil-Am communities in the guise of pro-poor programs, but also to educate Filipinos on the "real situation" in IP communities back home.
"Yung problema sa NPA is connected doon sa mga organizations ng mga Fil-Ams na nandito. Pero hindi lang siya financial support, we believe na kailangan din namin i-educate yung mga Fil-Am communities because they are being fed with lies (The problem about the NPA is connected to the Fil-Am organizations here. But it's not only about financial support, we believe that we need to educate Fil-Am communities because they are being fed with lies)," he said.
Lanes called on Filipinos to raise the discourse on the issues hounding tribal communities and resist the narrative given by alliance of progressive organizations abroad.
"Rather than magalit, naaawa kami sa kanila because they are also victims sa mga maling paniniwala, at yun ang nakakaawa (Rather than be angry, we pity them because they are also victims of deception)," Roco said.
On the other hand, Datu Nestor Apas urged Fil-Ams to "research properly" on the issue and "be open to discussions."
"Mas mabuti mag research sila. Mag-research sila sa mga tao na dapat paniwalaan. Bumalik sila sa Pilipinas, pumunta sila sa mga communities namin. Mag-investigate sila, para makita nila ang totoo (It's better that they research. They should research on whom to believe. They should go back to the Philippines and visit our communities. They should conduct an investigation, so they will be able to know what's true)," said Apas, chief of Langilan Manobo tribe of Davao del Norte.
Meanwhile, Deputy Consul General Raquel Solano said the tribal chieftains' speaking tour in America provides a platform for them to be heard by the greater Fil-Am community.
"This is a good thing because they are providing our people information that they would need in order to properly evaluate the development and happenings in the Philippines particularly in respect to indigenous communities in Mindanao," she said.
In March, the European Union expressed commitment to probe allegations that its assistance funds were being channeled to the CPP-NPA.
The Philippine government has requested the EU to "immediately cease" its funding coursed through legal fronts of the CPP-NPA.
The tribal leaders are making their way across the United States — from New York to Chicago, California and Washington DC — to call on the international community to hear their plight back home.
The CPP-NPA is listed as a terrorist organization by the United States, European Union, United Kingdom, Australia, Canada, New Zealand, and the Philippines. (PNA)