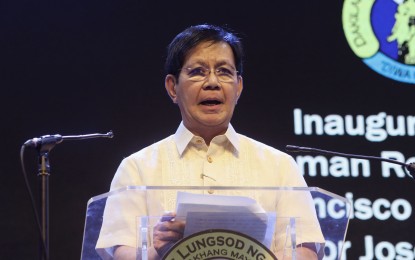 MANILA -- Senator Panfilo Lacson on Friday said the Philippines can manage without the intervention of the United Nations Human Rights Council (UNHRC).
Lacson made the statement following the UNHRC's move to adopt a resolution that would allow the body to investigate the human rights situation in the country.
The Iceland-initiated resolution was adopted with 18 votes in favor, 14 against, and 15 abstentions.
"We have a functioning criminal justice system that deals adequately with erring law enforcers," Lacson said.
"We regularly provide our Commission on Human Rights the budget they need to perform their mandate," he added.
Foreign Affairs Secretary Teodoro Locsin Jr. questioned the validity of the resolution since it was "not universally adopted."
Locsin further described as politically partisan and one-sided the Iceland resolution, reiterating Manila's position to reject it.
"It cannot, in good conscience, abide by it. We will not accept a politically partisan and one-sided resolution, so detached from the truth on the ground. It comes straight from the mouth of the Queen in Alice in Wonderland, 'First the judgment, then the proof'," he said.
Among the 18 states that voted "yes" include Argentina, Australia, Austria, Bahamas, Bulgaria, Croatia, Czech Republic, Denmark, Fiji, Iceland, Italy, Mexico, Peru, Slovakia, Spain, Ukraine, the United Kingdom including Northern Ireland, and Uruguay.
A total of 14 nations, on the other hand, voted "no", including Angola, Bahrain, Cameroon, Hungary, China, Cuba, Egypt, Eritrea, India, Iraq, Qatar, Saudi Arabia, and Somalia.
Meanwhile, 15 countries abstained, including Japan, South Africa, Brazil, and Pakistan. (PNA)