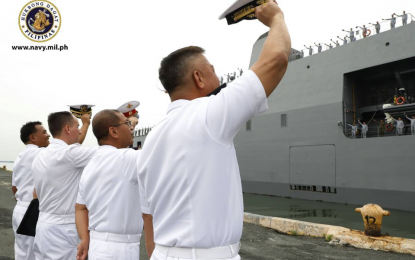 MANILA – The Philippine Navy's (PN) BRP Davao del Sur (LD-602), which has a 300-man contingent, sailed to Vladivostok, Russia on Monday to participate in the naval parade during the Russian Navy Day.
The event was slated from July 24 to 29 this year.
During the send-off ceremonies at Pier 13 of Manila South Harbor, PN chief-of-naval staff, Rear Admiral Loumer Bernabe said the visit of the BRP Davao Del Sur (LD-602), the Navy's second strategic sealift vessel, to Vladivostok is a follow-up on the first-ever port call of the BRP Tarlac (LD-601) to Russia on October 1-8, 2018.
"This is a follow-up of our first port visit last year which hopes to broaden our horizon on capacity building and another opportunity for us to continue and strengthen our bilateral military cooperation and diplomatic relationship with the Russian Federation and other counterparts as well as an avenue to explore resolutions on issues and concerns mutual to all maritime countries," he said.
Aside from the 300-man naval contingent, PN spokesperson, Captain Jonathan Zata said aboard the BRP Davao del Sur is one helicopter detachment which consists of an AW-109 AgustaWestland, its flight crew and maintenance personnel.
BRP Davao Del Sur, like its sister ship BRP Tarlac, has an overall length of 120 meters, breadth of 21 meters, draft of five meters and can carry a payload of 2,800 tons.
Both ships have a cruising speed of 13 knots and maximum speed of 16 knots, and a minimum operating range of 7,500 nautical miles.
The contingent, headed by Captain Richard Gonzaga, is expected to arrive in Vladivostok on July 24.
Aside from the customary arrival ceremonies, PN sailors and marines are expected to participate in the Russian Navy celebration in Vladivostok, as well as visits to Russian naval facilities to exchange expertise especially with the scheduled visit in one of their submarines.
It is likewise expected that other navies will participate in the Russian Navy Day by sending their respective contingents and ships to the Fleet Review.
The Russian Navy Day (also known as Day of the Russian Navy) is a national holiday in the Russian Federation and a senior holiday in the Russian Armed Forces.
The day honors the sailors in units of the Russian Navy. It is celebrated annually, on the last Sunday of July. (PNA)