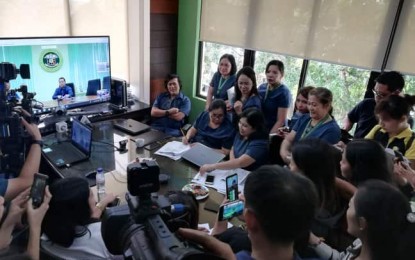 ILOILO CITY – The Department of Health-Center for Health Development in Region 6 (DOH-CHD 6) with the concurrence of Health Secretary Francisco T. Duque III, on Monday declared a dengue outbreak in Western Visayas, except for Negros Occidental, which will be placed on alert status.
In a video conference at the DOH-CHD 6 office here, the agency's head, Regional Director Marlyn Convocar, received a go signal from Duque after he was apprised of the region's dengue situation.
DOH data showed that Iloilo, Capiz, Aklan, and Guimaras already declared an outbreak while Antique has expanded the scope of the declaration of its state of calamity to ill-effects of dengue from just the El Niño phenomenon.
In giving his approval, Duque also commended DOH-6 and local officials for their three timely interventions that include the declaration of the epidemic, management of cases in hospitals and for rural health units to serve as hydration centers or stations.
DOH regional data showed that from January to July 6, 2019, Western Visayas had 15,746 cases and 87 deaths. The average increase was computed at 236 percent when compared with 4,684 and 40 deaths for the same period last year.
Among four provinces in Western Visayas, Guimaras recorded the highest increase at 1,030 percent while the highest case fatality rate (CFR) is in Aklan, Negros Occidental and Bacolod City at 0.7 percent. CFR is computed as total number of death over the total number of cases.
National data covering the January 1 to June 29, 2019 period showed Western Visayas as having the most number of cases among 17 regions with 13, 164 cases and 60 deaths; followed by Region 4–A with 11,474 and 46 deaths; Region 7 with 9,199 cases and 60 deaths and Region 12 with 9,107 cases and 41 deaths.
During the video conference, Duque committed 18,375 NS1 dengue test kits to be delivered to Western Visayas as soon as possible. Convocar said the region has been doing emergency purchases but the supply is still not enough.
Following the declaration of the outbreak, the secretary also gave his go signal to delay the implementation of the school-based immunization (SBI) by two months to allow health workers to focus their attention on the dengue issue. The SBI is scheduled from July to September.
"Instead of September, we will have to wait until end of November to be able to achieve our target of 95 percent herd immunity in Region 6," Duque said.
Moreover, a moratorium on the conduct of trainings will be implemented to allow DOH to focus on "reversing the epidemic and alert thresholds or trends in your region," he said.
Personnel of rural health units (RHUs) will also be deployed at hospitals to augment the latter's workforce. They will include 24 medical technologists, 16 doctors, and 189 nurses.
Duque reminded the regional office, however, to make sure that there are enough personnel left in RHUs to monitor efficient and effective operation of hydration stations.
Convocar assured that some 500 personnel are left to man various RHUs.
Meanwhile, Convocar appealed to the public to do their share of curbing dengue cases by intensifying the practice of the "4S" strategy.
She said that focus of the cleanup should be done at the household level by making sure that there are no breeding grounds for dengue-carrying mosquitoes. "This is where we have to start now; in our homes," she said.
Meanwhile, to protect children, it is recommended that they wear high-knee socks, wear jogging pants or use mosquito repellant lotion.
Dengue vectors are day-biting mosquitoes, from 6 to 8 in the morning and 4 to 6 in the afternoon. They prefer to stay in dark and cold places and are more likely to bite those who are wearing dark colors.
"The status of our affected children is one to 10 years old. Sixty-two percent of children in this age bracket who were affected by dengue died," she said.
Convocar recommended that suspected cases be referred to RHUs if they have fever for one to two days, for testing.
"We should not be complacent if the fever subsides on the third day because it doesn't mean that he/she is okay. Possibly there is complication and that's what we should watch out for," she said.
Fogging is selective, and only when there is clustering of cases and deaths, she added.
Convocar emphasized that each one has an obligation to help address dengue. She said that if everyone does her/his share, then dengue can be stopped.
She warned that if there will be no cooperation among the residents, there would be more cases in the next three months.
Western Visayas experienced a spike in dengue cases in 2010, 2013 and 2016. In 2010, dengue cases for the whole year reached 27,264 with 137 deaths; 22,392 with 69 deaths in 2013; and 26,440 cases and 88 deaths in 2016.
However, this is the first time that an outbreak was declared in Western Visayas. (PNA)