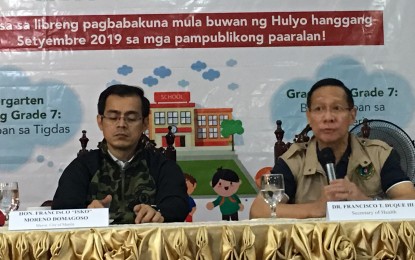 MANILA -- Health Secretary Francisco Duque III reiterated on Tuesday his appeal to mothers and caregivers to have their children vaccinated in line with the Department of Health's (DOH) school-based immunization campaign.
"We're doing this to provide children and adolescents greater protection against vaccine-preventable diseases. Ang mga ito po ay libre, inaangkat sa ibang bansa, at subok na ang kalidad nila (These are for free, imported from other countries, and their quality has been proven)," Duque told a media briefing at the Ramon Magsaysay High School (RMHS) in Manila City.
Duque said the DOH has covered 98 percent of its 3.7 million nationwide target - children ages six to 59 months old.
"In our school-based program our target is 10 million children and we have covered 13 to 14 percent palang dahil kakaumpisa palang ng paaralan (only because the school has just started). For the 13 years old and above, the target is 2 million and we have covered 43 percent," he said, adding that the school-based immunization program is until September 29 this year.
To address the other health issues faced by students in public schools, Duque said vaccination is integrated with other free public health services like mass deworming.
"Also, selected female grade 4 students are given human papillomavirus vaccines to avoid cervical cancer when they reach age maturity. But I want to stress that only, only learners with parental consent will be vaccinated," he said.
Citing that the DOH only covered 30 percent of its target immunization coverage last year because of the Dengvaxia issue, Duque said the public's trust on vaccines is slowly yet consistently going up because of the measles outbreak which peaked early this year.
"Ang takot ay nakakabuti pero hindi ito sapat, sana ay tuluyan nang bumalik ang tiwala ng publiko sa mga bakuna. Ang lahat pong ito ay dumadaan sa pagsusuri ng (Fear is not enough, it is still best for them to have renewed trust in vaccines. The vaccines are checked by the) Food and Drug Administration. They undergo evaluation, assessment, have been for their quality and safety," he added.
A total of 100 RMHS students, with their parents' consent, were vaccinated against measles, rubella, diphtheria, and tetanus at the launch of the school-based immunization program in Manila City. (PNA)