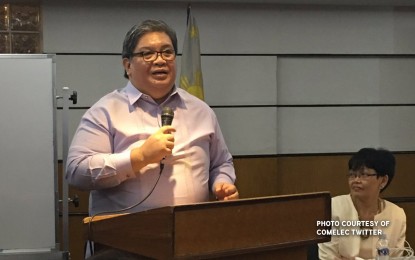 MANILA — An official of the Commission on Elections (Comelec) said the problems with the existing automated election system (AES) should be discussed and resolved first before Comelec starts looking for a new technology to be used in the country's next electoral exercises.
"Technology and machines are just tools necessary to bring about pre-determined intended outcomes. Determination should be evidence- and experience-based and should consider the context. Only then can a chosen technology be truly appropriate," Commissioner Luie Guia said on Tuesday in his Twitter account, @LTFGuia.
"It is also important to include the primary election stakeholders - political parties, electoral reforms advocates, social scientists - who can define, clarify, and articulate what the problems are that technology will find a solution for. Problem first, before solution," he added.
Guia also thanked the Department of Information and Communications Technology (DICT) for holding the AES Technology Fair in Quezon City on Monday.
"Congratulations to @DICTgovph for holding the #AESTechFair yesterday. It gave the public the chance to see alternative technology options that as made by Filipinos. Kudos!" he added.
Several technology providers participated in the event at the University of the Philippines, Diliman, which include BOSES - a homegrown election system, VOATZ - a mobile voting solutions provider, Smartmatic, and Indra Sistemas.
Both Smartmatic and Indra are not new in showcasing such system, as the former was the AES provider in the country's last four automated polls while the latter joined the bidding to automate the May 2016 presidential polls.
Meanwhile, Comelec Commissioner Rowena Guanzon rejected the ballot of the proposed "One Citizen. One Vote. One Count" AES of the DICT.
"@DICTgovph, why not just shade 12 ovals under senator? This looks like a lottery ticket. Something isn't right," she said in her Twitter account, @commrguanzon.
"Feeling ko tataya ako sa (I feel like I'm going to bet on the) lottery. We need a simpler ballot. Make it easy for voters to vote," Guanzon said.
The DICT's AES was also showcased in the event which features a ballot with ovals similar to what is found in sweepstakes tickets with voters set to shade or mark the oval corresponding to the number assigned to a candidate.
On the other hand, Comelec Chairman Sheriff Abas said they will be evaluating each of the AES featured as part of their preparations for the May 2022 elections. (PNA)