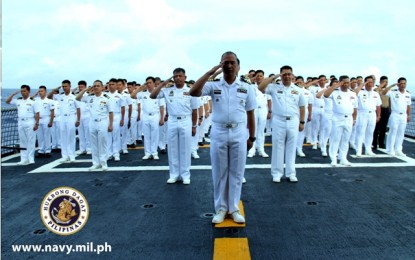 MANILA – The Philippine Navy (PN) expressed gratitude to President Rodrigo Duterte for his continued support to its ongoing modernization program, which allows it to acquire equipment and platforms that boosted its minimum credible deterrence capability.
This, as the Chief Executive is slated to deliver his fourth State Of the Nation Address (SONA) on July 22.
"The Philippine Navy is very much thankful for the continued support of the commander in chief. Within his incumbency, the Navy has acquired new and state-of-the-art equipment that boosted its capabilities for the country to have minimum credible deterrence," PN spokesperson Captain Jonathan Zata said in a message to the Philippine News Agency.
Through Duterte's support, the PN was able to complete the acquisition of the Spike-ER (extended range) surface-to-surface missile system, now installed on three of the newly-acquired multi-purpose attack crafts (MPACs), along with a battery of brand-new Elbit-Soltam 155mm howitzers for the Philippine Marine Corps, the PN spokesperson stressed.
The Spike-ER missile system was delivered to the PN in April 2018, after which two test-fires were successfully conducted in August and November last year while the PMC took delivery of its new howitzers sometimes in April 2017.
"The Navy has also received its (AgustaWestland AW-159 Wildcat), two anti-submarine warfare capable helicopters as well as four of the (Hanwha Techwin) eight amphibious assault vehicles (AAVs).The Pohang-class corvette is scheduled to be delivered within July 2019. Likewise, the Jose Rizal class multi-role frigate will also be delivered to the PN by first quarter of 2020," Zata added.
The AW-159s and AAVs were delivered this May and commissioned into PN service on June 17. While the BRP Jose Rizal (FF-150) was launched at the Hyundai Heavy Industries shipyard in Ulsan, South Korea last May 23.
Its sister ship, the BRP Antonio Luna (FF-151), had its keel laid on the same date. The Department of National Defense signed a PHP18 billion contract for the two ships, including weapons systems.
The two ships (FF-150 and FF-151) are equipped with surface-to-air and surface-to-surface missiles, torpedoes, launchers and weapon systems and sensors for four-dimensional warfare.
The frigates measure 351 feet long and 46 feet wide and has a maximum speed of 25 knots and can travel up to 4,500 nautical miles at a cruising speed of 15 knots and can sustain operational presence for 30 days.It is also capable to withstand rough sea conditions.
"It's also through his independent foreign policy that the Navy was able to perform its diplomatic role more extensively when for the first time a naval contingent on board BRP Tarlac (LD-601) visited Vladivostok, Russia and another contingent in China in (October) 2018. The littoral monitoring stations that conduct surveillance in our southern borders were likewise restored which contributed in no small measure to maritime law enforcement and anti-piracy operations. This has also widened awareness on the critical requirements for safeguarding our sea lanes of communications against maritime threats," Zata said.
Also noteworthy was the President's approval of "critical acquisition" for the Second Horizon of the PN's Modernization Program which included diesel-electric submarines, shore-based missile system and fast attack interdiction craft-medium, he added.
"(These) efforts also afforded PN personnel to be sent on courses to different countries such as France, United Kingdom, (South)Korea, Singapore as well as the US to further hone their skills and better prepare for modern and more technologically advanced equipment of the Navy," Zata pointed out.
He said the President also approved the use of the Hanjin Heavy Industries and Construction Philippines (HHIC-Phil) shipyard in Redondo Peninsula, Subic Bay, Zambales for the PN -- in partnership with a private entity -- as a prime support facility and also to locally construct and repair Navy vessels.
Government interest in the HHIC-Phil was triggered when the shipbuilder filed last Jan. 8, 2019 a petition at the Regional Trial Court in Olongapo City "to initiate voluntary rehabilitation under Republic Act 10142, otherwise known as An Act Providing for the Rehabilitation or Liquidation of Financially Distressed Enterprises and Individuals".
With this, the shipbuilder has sought help from the government to find investors that can take over the operation of its shipyard in Subic, as well as to help its employees, who have taken the brunt of the company's financial woes.
In December 2018, the company laid off more than 7,000 workers. HHIC-Phil earlier revealed that it has a total of USD1.3 billion outstanding loans -- USD400 million from Philippine banks and USD900 million from South Korean lenders.
"Locations in Morong, Bataan were likewise identified as future bases and support facilities. The President has also supported the Navy's Self Reliance Defense Posture projects through inter-agency sponsorships and support to Navy scholars for high technology local endeavors," the PN spokesperson said.
Aside from equipment and facilities upgrade, Zata said the President's support to the morale and welfare of the men and women of the PN through salary increases, off-base housing projects, improved medical facilities and assistance as well as the granting of additional allowance for troops deployed in Sulu.
"His strong campaign against graft and corruption enabled the naval organization to further transform and reform in order to ensure that resources are properly allocated and utilized. All these highlights the commander in chief's support to the PN and the AFP (Armed Forces of the Philippines) whose key roles in our archipelagic nation's security is an inherent requirement and an essential investment for our future generation. Protecting the seas, securing our future," he added. (PNA)