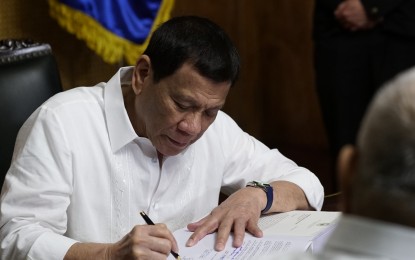 MANILA – President Rodrigo Duterte has signed into law an act meant to provide benefits and programs to further develop startups and startup enablers in the Philippines.
Duterte signed the "Innovative Startup Act" (RA 11337) on April 26 but a copy of the document was released to reporters on Thursday (July 18).
Under the law, Duterte recognizes the importance of creating new jobs and opportunities, improve production, and advance innovation and trade in the country through startups.
A startup refers to "any person or registered entity in the Philippines which aims to develop an innovative product, process or business model."
"The State shall provide incentives and remove constraints aimed at encouraging the establishment and operation of innovative new businesses, business crucial to their growth and expansion and to strengthen, promote and develop an ecosystem of business and government and non-government institutions that foster an innovative entrepreneurial culture in the Philippines," the law read.
The law allows the creation of a Philippine Startup Development Program which is meant to support the research and development of startups and startup enablers in the Philippines.
"The Program shall be composed of programs, benefits, and incentives for startups and startup enablers promulgated through the respective mandates of national government agencies and through additional mandates provided by the provisions of this Act," the law read.
The Department of Science and Technology, Department of Information and Communications Technology, Department of Trade and Industry will be the lead agencies to assess, monitor, develop and expand the program.
These agencies must also develop and maintain a website to serve as the primary source of information on statistics, events, programs, and benefits for startups and startup enablers and related enterprises in the Philippines.
On April 17, Duterte also signed the Philippine Innovation Act (RA 11293) which would harness innovation efforts to help the poor and the marginalized and enable micro, small and medium enterprises to be part of the domestic and global supply chain. (PNA)