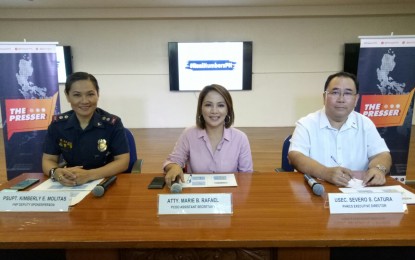 MANILA-- The Presidential Communications Operations Office (PCOO) on Thursday released for the first time the government figures on arrested high-value targets under the Philippines' campaign against illegal drugs.
From July 1, 2016 to June 30, 2019, PCOO Assistant Secretary Marie Rafael said law enforcers have nabbed some 7,054 high-value targets.
Of this figure, 189 are foreigners, 282 are elected officials, 76 are uniformed personnel, 323 are government employees, 1,975 are target-listed, 687 are drug group leaders/members, 57 are armed group members, 689 are drug den maintainers, 190 are wanted-listed, eight are celebrities/prominent personalities, and 2,578 are from high impact operations.
Three years since the campaign was launched, Rafael said the government has launched at least 134, 583 anti-drug operations, where a total of 193,086 drug personalities were arrested and about 5,526 were killed.
The official also noted that 421,724 drug surrenderers have been undergoing rehabilitation since, while 13,752 of the 42,045 total barangays in the Philippines have been declared drug-cleared for the same period.
Meanwhile, a total of 348 dens and clandestine laboratories have been dismantled since July 2016, with around PHP34.75 billion-worth of drugs and laboratory equipment seized, Rafael said.
Presenting the latest data on the government's anti-drug program, Philippine National Police deputy spokesperson, Lt. Col. Kim Molitas said it is evident the Philippines is "winning the drug war" despite the criticism against the initiative.
"I think despite all the criticisms... that's why we are winning this war. I think criticisms are good, it put us on our toes, it keeps us grounded, it allows us to look at what we're doing good and (those that are lacking) and we can look at that and put some more effort," she told reporters in an interview.
"Rest assured that the Philippine National Police will do its job and will never be resting on the accomplishments that we have gained over the last three years, we look forward to three more years working with the president and this government," she added. (PNA)