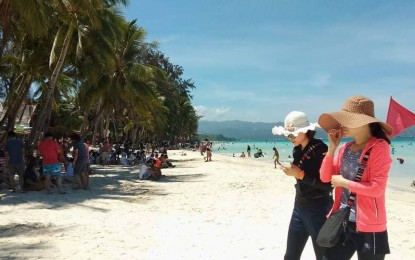 ILOILO CITY -- The Boracay Inter-Agency Rehabilitation Management Group (BIARMG) has drawn positive feedback from tourists since the world-famous Boracay Island reopened in October last year.
"The tourists coming in are happy that Boracay is no longer a cesspool and the traffic congestion was addressed," Natividad Bernardino, general manager of the BIARMG, said in a phone interview Thursday.
She said the Department of Public Works and Highways' (DPWH) project phase 1 has widened road network from the Cagban Jetty Port to the semi-central Boracay district and has cut the travel time of tourists.
Phase 2, which includes the completion of Boracay's drainage system, is expected to be finished in mid-2020.
"If tourists experience traffic congestion, it is because of the ongoing road works of the phase 2 project of DPWH," she said.
The flooding in the villages of Manoc-Manoc and Balabag on Wednesday was also seen to have been caused by the ongoing DPWH project.
Bernardino assured the task force works to implement mitigating measures in the reported flooding.
"We deployed pumps to flush out rainwater," she said.
Meanwhile, Boracay vendors, who were the fixture of the beachfront before the rehabilitation, are now more organized in their designated areas.
This is also considered one of the notable achievements of the rehabilitation, Bernardino said.
More developments are to be seen in the economic part of the island as the local government of Malay is also considering to relocate the vendors to a better tourism market.
"But in the meantime, our vendors are here on the beachfront," she said.
Bernardino said the task force has seen more and more commercial establishments on the island being compliant with environmental laws.
These environmental laws include the Clean Air Act; Clean Water Act; Hazardous Waste Law; Ecological Solid Waste Management Act (Republic Act 9003); and Presidential Decree 1586 or the establishment of an environmental impact system.
Aside from the establishments, she said tourists also obey the local ordinances.
Bernardino said violations of the smoking and liquor drinking ban on the beachfront are "very seldom" recorded.
President Rodrigo Duterte ordered the environmental rehabilitation of the island in April 2018. (PNA)