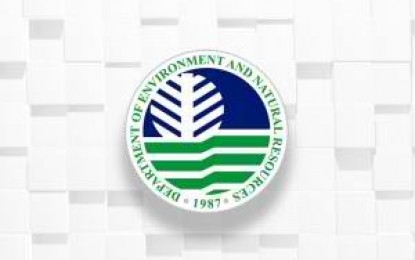 MANILA – The Department of Environment and Natural Resources (DENR) has stepped up its environmental protection campaign as it embarked into yet another high-profile battle against environmental abuse early this year after the controversial 2018 rehabilitation of world-famous tourist destination Boracay Island.
This January, DENR kicked off the multi-sector rehabilitation of historic Manila Bay in an attempt to make this water body fit for swimming and other forms of contact recreation again as ordered by the Supreme Court in 2008.
¬¬¬¬
"There's no turning back," DENR Secretary Roy Cimatu said at the kick-off ceremony in Manila, assuring a crackdown against polluters of the bay.
He raised urgency for Manila Bay's rehabilitation, noting decades-long flow of solid waste and untreated discharges into this water body raised level of coliform bacteria there to over 330 million most probable number (MPN) per 100 milliliters -- surpassing the level in Boracay Island.
The safe coliform level is 100 MPN per 100 milliliters only, the DENR noted in a statement.
Cleaning up Manila Bay and its tributaries, relocating informal settlers there and educating the public on solid waste management are main activities for the rehabilitation.
Aside from cracking down on establishments polluting Manila Bay, DENR partnered with various sectors on the rehabilitation's required water clean-up. Such efforts are already beginning to pay off.
"Coliform level in Manila Bay has gone down significantly," Cimatu said.
In April, he officially declared Aguawan Beach in Bataan province as safe for swimming as DENR said water there already meets the coliform standard.
Aguawan Beach is the first beach along Manila Bay's 192 km-long coastline to be declared as swimmable since government commenced the rehabilitation.
The coastline stretches from Bataan in Region 3 (Central Luzon) to National Capital Region and Cavite province in Region 4-A (Calabarzon).
Environmental Management Bureau's (EMB) officer-in-charge Assistant Director Vizminda Osorio said waste materials recovered during Manila Bay's rehabilitation were brought to government-accredited landfills as well as the public works department's debris staging area.
She said DENR is looking for an area for the treatment, storage and disposal (TSD) facility that'll accommodate hazardous waste recovered during the rehabilitation.
"Establishing a TSD for the recovered hazardous waste is part of government's rehabilitation plan for Manila Bay," she said.
DENR is also considering waste-to-energy (WtE) technology as option for handling appropriate waste that will be recovered during Manila Bay's rehabilitation.
WtE technologies burn waste to produce energy -- putting discards to good use while reducing volume of garbage for disposal.
Keeping imported waste out of PH
In June, DENR announced tightening its grip on waste -- including recyclables -- shipped into the Philippines.
"We'll prepare a department order banning all garbage coming from any other country," said Cimatu.
He said such policy direction aims to prevent further inbound shipment of hazardous and misdeclared cargo like the controversial mixed waste from Canada as well as environmental, health and diplomatic problems that can arise from these imports.
Canada this May already took back its waste-filled containers which have been in the Philippines since 2013.
Besides Manila Bay and Boracay Island, Baguio City and other tourist areas in the country are also sites of rehabilitation work to prevent further environmental degradation there.
DENR likewise targets promoting responsible wildlife tourism nationwide. This year, DENR's Biodiversity Management Bureau (BMB) continued refining proposed guidelines aimed at protecting marine wildlife from tourism's adverse impacts like habitat destruction.
BMB also spearheaded in May the knowledge-sharing event 'Closing the Loop, Opportunities for Collaboration' to help foster increased collaboration on marine debris.
Marine debris consists of plastics and other solid materials that end up in Philippine waters, causing pollution and endangering biodiversity there.
Wildlife there can either ingest the debris or get entangled in these discards, noted BMB in a statement. Such debris may also damage marine ecosystems and are navigational hazards, it added.
DENR and its Forest Management Bureau continued implementing this year its National Greening Program (NGP) -- so far government's most ambitious reforestation bid -- as the agency recognized forests' role in helping promote biodiversity conservation, food security, environmental stability, poverty reduction as well as climate change mitigation and adaptation.
Latest official data from DENR (July 8) show NGP already greened almost 2 million hectares of open, denuded and degraded land nationwide since the program was launched back in 2011.
Such accomplishment is 109 percent higher than NGP's 2011-2019 target of 1.83 million hectares, the data also showed. NGP's original run from 2011 to 2016 targeted greening 1.5 million hectares.
EO 193 series of 2015 extended NGP's implementation period from 2016 to 2028 for the program to cover the remaining 7.1 million hectares of unproductive, denuded, and degraded forest land in the country.
Eliminating use of mercury
This April, DENR and its Mines and Geosciences Bureau (MGB) led the Philippine launch of an international project on eliminating use of mercury in artisanal and small-scale gold mining (ASGM).
The United Nations Environment Program and United Nations Industrial Development Organization are implementing the 2019-2024 USD11.70 million project in the Philippines and Mongolia.
Such project is under the Global Opportunities for Long-Term Development of the ASGM sector (GOLD) program which seeks to address key issues linked to continuous use of mercury and to provide opportunities for sustainable development of communities concerned.
According to RA 7076 (People's Small-Scale Mining Act of 1991), small-scale mining refers to "mining activities which rely heavily on manual labor using simple implement and methods and do not use explosives or heavy mining equipment."
Unabated use of mercury is among issues hounding a number of Philippine ASGM operations, DENR noted. Such operations are among sources of mercury discharges in the country, it said.
WHO warned exposure to mercury -- even in small quantities -- may cause serious health problems.
To help better monitor Philippine small-scale mining, MGB is working to fast-track approval of applications for Minahang Bayan areas nationwide.
Minahang Bayan areas are where small-scale miners can operate legally, enabling government to better track and regulate their extractive activities while helping promote safety of these workers, protect the environment and generate revenues for government.
For the 2019 and future editions of its biennial search for the country's most sustainable and eco-friendly public and private schools, EMB decided to put more emphasis on climate change when evaluating entries.
Sustainable and eco-friendly schools are those that initiated and integrated environment-related programs into respective instruction, research, extension and/or administration activities, EMB said.
EMB launched the search in 2009. The search aims to help raise public awareness and action on environmental protection and sustainable development while highlighting the academe's role in achieving these goals, said EMB. (PNA)