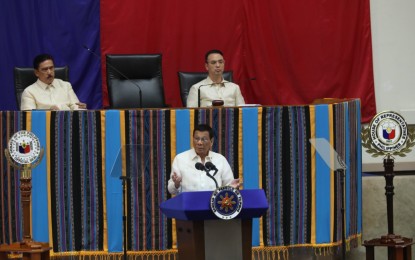 MANILA -- President Rodrigo Duterte has called for more local political will and action that will prevent further environmental degradation in the country.
He ordered the local government units (LGUs) nationwide to prevent such degradation so their constituents can enjoy a healthy ecology.
"Take extra steps in enforcement of laws and protection of our environment," he told LGUs Monday during his 4th State of the Nation Address (SONA) at Batasang Pambansa in Quezon City.
The President gave the order, noting political will and action are fueling the rehabilitation which the government launched last year to address the environmental mess in world-famous tourist destination Boracay Island.
On-going rehabilitation of Boracay is helping restore this island to its near-original state, he said, noting that its rehabilitation is a "huge success".
He lauded the Department of Environment and Natural Resources (DENR) and its partner agencies for taking up the challenge to save the island.
Among environmental woes which the rehabilitation sought to address are water pollution, solid waste accumulation and encroachment in Boracay's wetlands.
"Boracay Island is just the beginning," Duterte said.
While continuing the work in Boracay, the government this year further stepped up its environmental protection campaign by mounting the high-profile rehabilitation of historic Manila Bay.
DENR is leading the multi-sector rehabilitation so Manila Bay can be fit again for swimming and other forms of contact recreation as ordered by the Supreme Court in 2008.
Data raised urgency for the Bay's rehabilitation.
According to DENR, decades-long flow of solid waste and untreated discharges into Manila Bay raised level of coliform bacteria there to over 330 million MPN (most probable number) per 100 milliliters – surpassing the level in Boracay Island.
The safe coliform level is 100 MPN per 100 milliliters only, noted DENR.
Cleaning up Manila Bay and its tributaries, relocating informal settlers there and educating the public on solid waste management are main activities for the rehabilitation.
Aside from Boracay Island and Manila Bay, Baguio City and other tourist areas in the country are also sites of rehabilitation work to prevent further environmental degradation there.
Duterte also reiterated his warning against corruption in government.
"There is no sacred cow in my administration," he said.
He recalled the sacking, without regard for either friendship or alliance, of over 100 public officials implicated in corruption. (PNA)