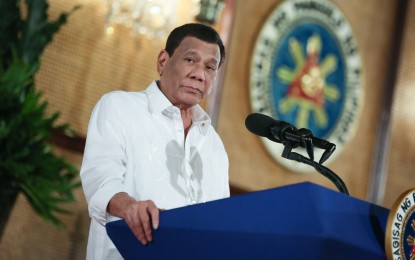 MANILA -- President Rodrigo R. Duterte, in his 4th State of the Nation Address (SONA) on Monday, urged Congress to postpone the May 2020 barangay (village) and Sangguniang Kabataan (youth council) elections to October 2022.
"Congress has to postpone the May 2020 elections and 'yung (the) Barangay, Sangguniang Kabataan to October 2022," Duterte said his speech.
"Because if you read it, this… To rectify the truncated terms. Paiba-iba na eh (It's always different)," he added.
Duterte implored Congress to study the postponement "carefully."
He explained that postponing the barangay polls would provide local officials with ample time to finish their programs and projects.
He also urged Congress to enact the Magna Carta for Barangays, which would give barangay officials -- including the barangay secretary, treasurer, tanods (watchmen), nutrition scholars, and health workers -- fixed compensation, as well as additional allowance, medical and dental coverage and retirement benefits.
This would not be the first time for barangay and SK elections to be postponed.
In October 2017, Duterte signed into law Republic Act 10952 postponing the October 23, 2017 barangay and SK polls till the second Monday of May 2018.
Under RA 10952, all incumbent barangay officials shall remain in a holdover capacity, unless sooner removed or suspended for cause, until their successors shall have been elected and qualified.
The term of office of the barangay and SK officials elected under this law was to commence at noon of June 30, 2018.
The next synchronized barangay and SK elections shall be held on the second Monday of May 2020 and every three years thereafter. (PNA)