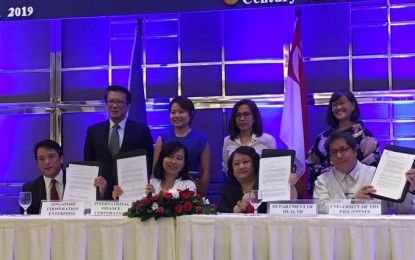 MANILA -- The Department of Health (DOH) on Tuesday launched its first public-private partnership project, which aims to strengthen the implementation of the Universal Health Care (UHC) Law.
In her speech at the launch, DOH Undersecretary Lilibeth David said the technical cooperation on the PPP for UHC would provide a platform for leaders and specialists from the Philippines and Singapore to share knowledge and expertise in public-private partnerships with a focus on the health care sector.
"Public-private partnerships will play a vital role in UHC. The DOH has already built a pipeline of seven solicited PPP proposals for health, all of which are being intensively reviewed for their social impact, sustainability, and alignment to the objectives of UHC and other national policies," David said.
Stressing the importance of the private sector in providing primary health care services, David said the UHC, in return, give its members an opportunity to expand their market reach through contracting networks of private health care providers.
David, together with International Finance Corporation (IFC) country manager for the Philippines Yuan Xu, University of the Philippines president Danilo Concepcion, Singapore Cooperation Enterprise chief executive officer Wy Mun, signed a memorandum of understanding to strengthen the collaboration between the participating organizations.
The ceremonial signing was followed by a dialogue about health care in the Philippines, with more than 100 health care leaders and specialists discussing various health challenges and their possible solutions.
Meanwhile, Mun said the country's PPP program is recognized as one of the progressive programs in Asia with an established framework.
"With the Philippines having embarked on various PPP projects, the parties have a lot to learn from each other," he added.
Noting that affordable and quality health care is important in a country's sustainable development, Xu said IFC is committed to expanding the access to quality health care to every Filipino.
"Well-structured PPPs are one tool available to close the gap in health care, and this program would help build the capacity of the health sector in this area," Xu added.
David challenged the private sectors to come up with innovative strategies that would provide safe, quality and cost-efficient, and competitive healthcare services for Filipinos.
The PPP for UHC program is supported by Temask Foundation (TF) through a grant of SGD582,282 with co-funding support from the IFC and the national government.
TF supports programs, which uplift lives and advance communities in Singapore and other countries through non-profit philanthropic endowments.
IFC, a sister organization of the World Bank and a member of the World Bank Group, is the largest global development institution focused on the private sector in the emerging markets. (PNA)