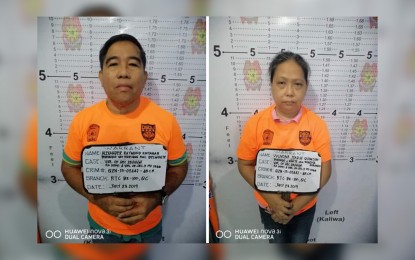 MANILA -- Authorities arrested on Tuesday a couple who are members of the central committee of the Communist Party of the Philippines-New People's Army-National Democratic Front (CPP-NPA-NDF) after the latter prevented lawmen from arresting their companion in Quezon City, the National Capital Region Police Office (NCRPO) said on Wednesday.
In a press conference held at Quezon City Police District (QCPD) headquarters in Camp Karingal, NCRPO chief, Maj. Gen. Guillermo Eleazar, identified the couple as Alexander Birondo, 67, and Winona Marie Birondo, both residents of Block 5 Lot 5 Strauss St., North Olympus Subdivision in Barangay Kaligayahan.
Alexander is a staff of the communist movement's National Education Commission, while Winona Marie is secretary of its National Propaganda Commission.
The suspects were arrested around 5:30 a.m. at an apartment in Barangay Mariblo after they blocked the operation of the District Special Operations Unit (DSOU) to serve an arrest warrant against Rolando Caballero alias Jet.
During the operation, the couple interfered, assaulted and physically prevented the police officers from arresting Caballero, who is wanted for murder.
Esquivel said the Birondo couple was brought to the Criminal Investigation and Detection Unit (CIDU).
During booking procedures, it was found out that they had previous cases of violation of Republic Act 10591, or the Comprehensive Firearms and Ammunition Regulation Act, and violation of Sec. 3 of PD No. 1866 as amended by RA 9516 (Unlawful Manufacture, Sales, Acquisition, Disposition, Importation or Possession of an Explosive or Incendiary Device) issued by Executive Judge Editha G. Mina-Aguba of the Quezon City Regional Trial Court (RTC) Branch 100.
Further investigation revealed that they were arrested on March 4, 2015, along with CPP/NPA Central Committee member Ruben Saluta but were released to participate as consultants of the NDF on the failed peace talks in Oslo, Norway.
In December 2017, President Rodrigo Duterte ordered their arrest after the cancellation of their temporary bail.
The Quezon City RTC, however, dismissed the case against them.
The suspects were brought for inquest before the office of the Assistant City Prosecutor.
Resolution of the case is still pending waiting for approval of the chief prosecutor.
At around 10 p.m. Tuesday, policemen and soldiers also served search warrants issued by Executive Judge Cecilyn Burgos-Villavert at the safe house of the arrested couple after validated information that they are keeping firearms, explosives and ammunition in the said place.
Recovered during the search were one caliber .45 pistol (STI with serial number 426161), one magazine with seven live ammunition, one inside holster, one MK2 hand grenade, one rifle grenade 40-mm high explosive, and one roll detonating cord. (PNA)